KEITH KALEN KREISEL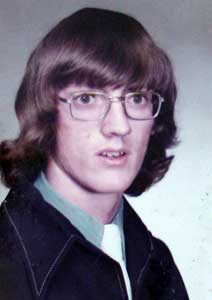 CLASS OF 1977
APRIL 9, 1959 - OCTOBER 2, 2013
Keith Kalen Kriesel, 54, Eureka, Kan., formerly of Osawatomie, died October 2, 2013, at his home with his wife, Sheila Louise Kriesel.
He was born April 9, 1959, in Osawatomie, the son of Keith and Patricia Showalter Kriesel. He attended school in Osawatomie and graduated from Osawatomie High School.
He joined the United States Air Force in 1977. He served actively for 16 years. While in the Air Force, he served in Operation Desert Storm.
He was married previously and from this marriage, he had three sons, Matthew, Michael and Tyler.
On May 23, 1992, he was united in marriage to Sheila in England. After honorable services in the Air Force, they decided to make their home in Eureka. He worked for the Greenwood County Sheriff's office for the past two years as a jailer and a reserve deputy. He also was involved with the local VFW Post. He drove a bus for the local school district. He worked at Cessna for four years and was a truck driver for many years.
He enjoyed attending his grandkids' activities.
He is survived by three sons, Matthew Kriesel (fiancée Sandra Johnson), Michael Kriesel (Erica), Tyler Kriesel (Samantha), all of Osawatomie; two step-daughters, Christina Scheff (fiancé Tony Scott) and Catherine Scheff, both of Eureka; 12 grandchildren; and their dog, Jazza.
He was preceded in death by his parents and nephew, Richard Hall.
Funeral services were Saturday, Oct. 12, at the Eureka Junior/Senior High School Auditorium with the Rev. Larry Evans of the Neal Evangelical Free Church officiating. Burial followed at Mount Zion Cemetery, Liberty Township, Elk County, southwest of Fall River.
In lieu of flowers, the family has requested that memorials be made to the Sheila and Keith Kalen Kriesel Family Benefit Fund in care of Koup Family Funeral Home, P.O. Box 595, Eureka, KS 67045, which is in charge of service arrangements.