KIRK NOLAN KEAST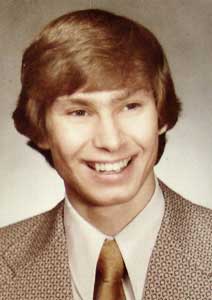 CLASS OF 1977
JULY 31, 1959 - JUNE 17, 2007
Kirk Nolan Keast, age 47, of Osawatomie, Kansas died June 17, 2007.
Kirk was born on July 31, 1959 at Kansas City, Missouri to Earl L. "Sonny" and Constance "Connie" (Thoms) Keast. He grew up in Osawatomie and graduated from Osawatomie High School with the Class of 1977.
He worked for Safeway Grocery Store in Osawatomie and then Missouri Pacific Railroad for about eight years from 1978 until 1986. He then owned and operated the Osawatomie Pool Hall for several years.
He was a member of the Presbyterian Church in Osawatomie.
He is survived by his parents Sonny and Connie Keast of Osawatomie; two sons Kirk A. Keast and Carl A. Keast both of Osawatomie; his twin brother Kent N. Keast of Osawatomie and his brother Guy Keast of rural Rantoul; nieces, nephews, other relatives and friends.
Graveside services will be held Wednesday, June 20, 2007 at the Osawatomie Cemetery. Visitation will be held from 6 to 8 p.m. Tuesday at the Eddy-Birchard Funeral Home in Osawatomie. Pallbearers will be Earl Keast, Guy Keast, Kent Keast, Carl Keast, Kirk A. Keast, and Tyler Keast. Memorials are to the Kirk N. Keast Memorial Fund.