BRUCE ALLAN MILNE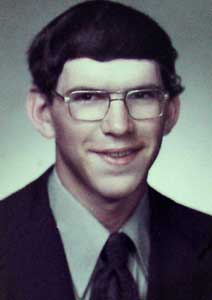 CLASS OF 1976
MARCH 14, 1958 - FEBRUARY 7, 2005
Bruce Allan Milne, 46, Lawrence, a former Osawatomie resident, died Monday, Feb. 7, 2005, at the Veterans Administration Medical Center in Topeka.
He was born March 14, 1958, in Olathe, the son of G. Harry and Evelyn June Beutzer Milne. He was raised on a farm southeast of Osawatomie and attended schools in Fontana and Osawatomie. He graduated in 1976 from Osawatomie High School.
After graduation, he worked at several jobs before enlisting in the U.S. Navy in 1978. He remained in the Navy for four years, spending most of his duty aboard ship. After an honorable discharge, he lived in Topeka and Lawrence.
In 1993 he met and married Nadine Chenault. They lived in Lawrence.
Mr. Milne learned he had lung cancer in 2004, and he was admitted to the Veterans Administration Medical Center on Jan. 27.
Preceding him in death were his grandparents and father.
Survivors include his wife, Nadine Milne of the home; his mother, Evelyn Milne of Osawatomie; three sisters, Kay Lunnon of Gainesville, Texas, Marti Kjustad of Wall, S.D., and Mary Ann Peterson of Osawatomie; five brothers, Jon Milne of Waukesha, Wis., Paul Milne of Pilot Grove, Mo., Gary Milne of Osawatomie, Chris Milne of Sparta, Mo., and Robert Milne of Warrensburg, Mo.; his stepson, Colan Medicine Horse; and four stepgrandchildren.
Graveside services will be at 1:30 p.m. Thursday at the Beagle Cemetery with military honors. Viewing will be from 1 p.m. to 8 p.m. today (Wednesday) at the Eddy-Birchard Funeral Home in Osawatomie.
Memorials are to the Topeka Veterans Administration Medical Center.