GARRY REED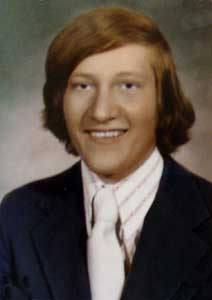 CLASS OF 1975
AUGUST 1, 1957 - JANUARY 5, 2011
Garry Wayne Reed, age 53, of Wellsville, Kansas, formerly of Osawatomie, Kansas died Wednesday, January 5, 2011 in an automobile accident on 68 Highway and Cedar Niles Road in Paola, Kansas.
He was born August 1, 1957 in the rural part of Uniontown, Bourbon County, Kansas. He was the son of Roy Willard Reed and Opal Evelyn (Harrison) Reed Rogers. He graduated from Osawatomie High School with the Class of 1975.
Right after graduating from high school, he served his country with the United States Air Force. He entered the Air Force on August 26, 1975 and was honorably discharged August 25, 1979. He had earned the rank of Sergeant. While in the Air Force, Garry graduated from Mack Mechanic School.
Garry worked at the LaCygne Power Plant as a Boilermaker. He was transferred to LaCygne from Maryville.
Garry had lived in Osawatomie and moved to Garnett in 1982. He moved from Garnett to Wellsville in 2005.
Garry enjoyed reading especially western books. He also enjoyed riding his Harley Davidson motorcycle. He participated in motorcycle benefit rides such as the Miami County Cancer Society and Bikers for Babies.
He was a member of the Kansas City Boilermaker's Union, Local 83, Eagles Club in Paola, the Harley Owners' Group and the Boy Scouts.
He was preceded in death by his father.
He is survived by his mother Evelyn Rogers of Osawatomie; two brothers Vern Reed of Osawatomie and Ray Reed of Richmond, Kansas; two sisters Diana Reed of Sarasota, Florida and Karla Ballew of Paola; eight nieces; a nephew; other relatives and friends.
Funeral services will be held at 1:30 p.m., Monday, January 10, 2011 at Eddy-Birchard Funeral Home with military honors. Visitation will be held from 1 to 3 p.m., Sunday, January 9, 2011 at the funeral home. Burial will be in the Osawatomie Cemetery. Pallbearers will be Max Caldwell, Eric Sharp, Paul Obermeier, Lowell "Pinky" Grosskreutz, Larry "Spook" Jahn, Steve Coffelt, Steve Parks, Jimmy Mendel, Tracy Modlin, Keith Summers, Bob "BT" Thomas, Ralph Ruckers, and Bruce Edwards. Memorials are to the Miami County Cancer Foundation.