DANA (BARDEN) BUCHANAN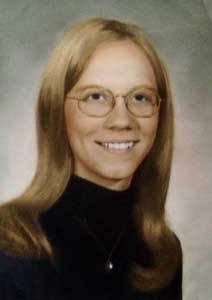 CLASS OF 1975
Funeral Service
Saturday, December 07, 2019
11:00 AM - 12:00 PM
First Baptist Church
801 Brown Ave
Osawatomie, Kansas 66064
Burial of Ashes
Saturday, December 07, 2019
12:00 PM
Beagle Cemetery
Memorials are to the Leukemia & Lymphoma Society
send c/o Eddy-Birchard Funeral Home P.O. Box 430 Osawatomie, KS 66064.
~~~~~~~~~~~~~~~~~~~~~~~~~~~~~~~~~~~~~~~~~~~~~~~~~~~~~~~~~~~~~~~~~~~~~~~~~
Dana Gaye Buchanan age 62 of Olathe, KS died Sunday December 1, 2019 at her home.
Dana was born February 8, 1957 in Paola, KS. She was the youngest of four children born to Fred Junior & Rose Marie (Simeon) Barden. She grew up in Osawatomie where she attended school. Graduating with the Osawatomie High School Class of 1975.
After high school, Dana started working for a medical company that made claims for doctors' offices. The name of the company changed a few times over the 35 years that she worked for them. Dana retired in May of 2018.
In 1995, Dana married Larry Buchanan in Las Vegas, NV. They made their home in various places over the years. They lived in Scotts Dale, AZ, Lenexa, KS and recently to Olathe, KS. Dana travelled to the places that Larry was working. She was able to travel to Los Angeles, CA and Singapore.
Travelling was Dana's favorite thing. She and Larry would travel to casinos all over the United States. When planning the trips Dana made sure to include detours to restaurants that were featured to the TV show Diners, Drive-in and Drives. Over the years Dana and Larry visited 84 of those locations. Once Dana became a grandma, her biggest hobby became her grandchildren. She loved being a grandma and spending time with her family.
She was preceded in death by her parents.
Survivors include her husband Larry of the home, children Aaron Marcum, Amy Gipson, Tyler Hess, Angela Hills and Larry Buchanan Jr., brothers Ron Barden, Fred Barden and Dennis Barden, four grandchildren Jonas Gipson, Savannah Gipson, Michael Marcum and Nicholas Marcum. Along with other family and many friends.