CATHERINE HEALEY VOSSLER DOS SANTOS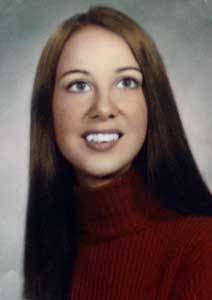 CLASS OF 1974
1956 - FEBRUARY 28, 2006
Catherine Healey Vossler Dos Santos, 49, Columbia, Mo., a native of Osawatomie, died Tuesday, Feb. 28, 2006, in Boone Hospital Center in Columbia. She had been ill with cancer about a year.
She was born in Osawatomie and her parents were Roy and Teresa Healey Vossler. She grew up in Osawatomie and was a 1974 graduate of Osawatomie High School.
She and Enrique Dos Santos were married and became the parents of seven children.
Her father preceded her in death in 1971.
Survivors include her husband and her children, Steven, Alexandra, Craig, Ben, Phillip, Jillian and Meredith; her mother of Osawatomie; a brother, Steven Vossler of Osawatomie; and a sister, Sue Vossler of Lawrence.
Services were Friday in Our Lady of Lourdes Catholic Church in Columbia. Burial was in Memorial Park Cemetery.