LAURA TRAUL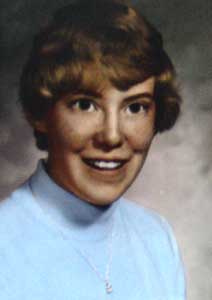 CLASS OF 1974
The family will see friends from 6-8 p.m. on Friday, Sept. 13 at Eddy-Birchard funeral home in Osawatomie.
The family will have graveside services on Thursday, Sept. 19 at the Elm Grove Cemetery in Cadmus, KS, with the Rev. Ted Hunter officiating. Donations may be made to the American Stroke Association.
______________________________________________________________________________________
Laura Traul, devoted sister, aunt, and Nana, passed away September 4 at the University of Kansas Medical Center in Kansas City, Kansas.
She was born October 31, 1955, the daughter of William Franklin (Frank) and Marie Louise Traul, in Kansas City, Missouri. The family moved to Des Moines, IA, in 1956. She moved with her family to Osawatomie in 1970 and graduated from Osawatomie High School in 1974. She went on to Pittsburg State University and graduated in 1978 with a bachelor's degree in history.
Her first job was as an office worker at Osawatomie State Hospital. She then began working for the Social Security Administration in downtown Kansas City, MO in 1981, retiring in 2016 after 35 years.
She was a loving caretaker for her family, caring for her father when he was battling cancer and her mother in her later years; she was a mother to her nieces Ariel, Amelia, and Adelaide. Most recently she was grandmother (or Nana, as the family called Laura) to her great nieces and great nephews - a role she really loved. True to form, at the end of her life she was an organ donor and went on to give to many others after her passing.
She loved puzzles, computer games, shopping, jazz music, and watching Royals games. After her retirement, she enjoyed traveling to places such as Hawaii, Florida, and the Badlands.
She is survived by Adelaide (Aaron) Traul of the home; Ariel Traul of Osawatomie, and Amelia (Ryan) Templeton of Chanute, KS; brother David Traul of Overland Park, KS, sisters Elizabeth North of Frontenac, KS and Ann Traul of Joplin, MO; grandchildren Andy, Elizabeth, Morgan, Mireya, and James; and nieces and nephews Aaron, Jeremy, Allison, Len, Adam, Rachel, Rebecca, Rosemary, and Alexandra.