MICHAEL EUGENE TALLEY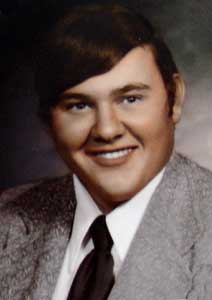 CLASS OF 1974
JULY 14, 1956 - AUGUST 19, 2016
Michael Eugene "Mike" Talley, age 60 of Osawatomie, Kansas died unexpectedly Friday, August 19, 2016 at the Osawatomie Golf Course.
Mike was born July 14, 1956 in Paola, KS. He was the youngest of three children born to Buel Leo & Veronica Mae (Canon) Talley. He grew up and attended Osawatomie schools. He graduated with the class of 1974.
On October 2, 1976, Mike married Debbie Debrick. They made their home in Osawatomie. Together they have four children, Brandi, Wendi, Jordan, and Mitchell.
After high school, Mike started his career with the City of Osawatomie. He started out in the Street Department and for a short time worked in the Electrical Department. Mike was a volunteer firefighter, ambulance driver, reserve police officer for the Osawatomie Police Department, and a security guard for Dillard's Department store.
His favorite job of all was the Parks and Recreation Department for the City of Osawatomie. He was always the familiar face at all city recreation sporting events including basketball, soccer, and football along with the ball fields. Mike worked many hours well beyond his work week. His family was raised at the ball fields. He cared for all kids and had a special bond with his summer help employees. After 34 years with the City of Osawatomie, Mike retired. He continued to help local businesses such as Hanes Florist and Brewer's Automotive.
Outside of working, Mike was an amazing husband and dad. He loved spending summers with Brandi and listening to Wendi sing. He loved going to all of Jordan and Mitch's sporting events. He liked to golf, hunt, and fish. He enjoyed traveling with his wife. Every vacation trip had to be near a golf course. He looked forward to the annual Minden Family hunting trip. In his younger years he learned magic and performed at his nieces' birthday parties.
Mike was preceded in death by his parents, siblings Buel Wayne Talley and Jolean Mae Talley.
Survivors include: Wife of 39 years, Debbie of the home; Children: Brandi Talley of Osawatomie, Wendi Talley of Emporia, KS, Jordan Talley of Wichita, KS, Mitchell Talley of Osawatomie, and fur babies. Along with his many other family and friends.