IVAN DALE ROSS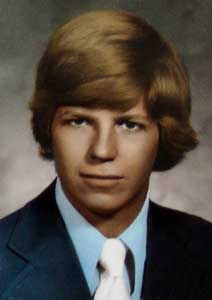 CLASS OF 1974
JULY 12, 1956 - MAY 4, 2010
Ivan Dale Ross, age 53, of Osawatomie, Kansas, died May 4, 2010 at the Hospice House in Kansas City, Missouri.
Ivan was born July 12, 1956 at Paola, Kansas. He was the son of Doyle Clayton Ross and Shirley Anne (Fields) Ross McCoach. Ivan grew up in Osawatomie and graduated from Osawatomie High School with the Class of 1974.
He was married to Julie Deering in the mid '70s. They became the parents of two daughters. They made their home in Osawatomie. Their marriage ended in divorce.
He later married Sherry Fields. They made their home in Stanley, Kansas. They were divorced.
Ivan worked as a heavy equipment operator for several construction companies.
He enjoyed fishing, building hot rods, and hunting. His favorite fishing holes were Hillsdale Lake, Melvern Lake, and LaCygne Lake. His canine companion was an eight year old black Labrador retriever he named Buddy. Ivan got Buddy as a puppy and loved to take him fishing and hunting for pheasant, dove, and quail.
He is survived by his mother Shirley McCoach of Osawatomie; his father Doyle Clayton Ross of Columbus, Ohio; two daughters Sacred Ross Sutton Davis of El Dorado Springs, Missouri and Michelle Ross Sutton Jones of Parsons, Kansas; two brothers Rex Ross and Michael Ross both of Paola; one step- brother Troy McCoach of Toms River, New Jersey; many other relatives and friends.
Cremation. A visitation in memory of Ivan will be held from 6 to 8 p.m., Wednesday, May 12, 2010 at the Eddy-Birchard Funeral Home.