DERRICK NELSON JENSEN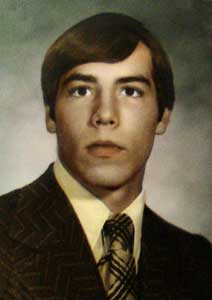 CLASS OF 1974
APRIL 27, 1956 - APRIL 7, 2017
PANAMA CITY BEACH, Fla. Derrick Nelson Jensen, age 60, born April 27, 1956, in Waukegan, Illinois, the son of Arthur F. Jensen (Olathe, Kansas) and Sharleen Stewart Stone (Mineral Wells, Texas), crossed his final goal line on April 7, 2017.
He graduated from Osawatomie High School, Class of 1974. During the 1973-74 school year, with the guidance of head football coach, Bill Freeman; assistant football coach, Troy Hodges, and the support of his teammates, the Osawatomie Trojans captured the 3-A Kansas State Football championship: Osawatomie 15, Ulysses 0. He attended the University of Texas at Arlington on a college scholarship to play football for the Movin Mavericks. While at UTA, Derrick was a two-time Southern Conference MVP. He finished his college career with 3,346 rushing yards, the first player in conference history to top 3,000 yards. Derrick was a third-round draft pick by the Oakland Raiders in 1978. He served as captain of the Raiders special teams for five seasons and contributed a blocked punt, which he recovered for the first touchdown in the Raiders 38-9 win over the Washington Redskins in Super Bowl 18.
On August 10, 1994, Derrick married Amanda Gantt, in Arlington, Texas, and they became parents to one son, Davis Gantt Jensen. In 2009, Amanda preceded him in death.
In 2012, Derrick retired from the Seattle Seahawks as a college football scout after 22 years of dedicated service. During his retirement, he devoted himself to being a full-time dad to his son. He took great pride in his yard and never missed an opportunity to work outside the home.
In his final years, Derrick displayed grace, dignity and acceptance while suffering from ALS (Lou Gehrigs Disease). Derrick shall be greatly missed by all who knew him and forever remembered in our hearts.
On March 27, 2013, Derrick married Lisa Green, in Panama City Beach. Lisa, a loving and devoted wife to Derrick, was at his side throughout this five-year battle with ALS.
Preceding him in death were: his grandparents, Wayne and Agnes (Coleman) Stewart, and Arthur E. and Rachel (Strong) Jensen.
Derrick is survived by: his son, Davis Jensen, of Panama City Beach; wife, Lisa Jensen, of the home; parents, Arthur F. Jensen and Sharleen Stewart Stone (Leon); siblings, Barbara Jensen (Denver, Colorado), Arleen Slayman (Jack), (Olathe, Kansas); and Steven Jensen (Bonnie) (Paola, Kansas); nephews and niece, Samuel Jensen Silverman, Christian Jensen, Michael Jensen, Brian Jensen, Seth Slayman and Alexis Franco; two step-daughters, Mikaela Marra (Peter) and Lauren Green; and many extended family and friends who supported Derrick throughout his lifetime.
True to his character, Derrick shall be cremated and a private family burial shall be held at a later date.
In lieu of flowers, the family suggests donations to: ALS Association Florida Chapter, 3242 Parkside Center Circle, Tampa, FL, 33619; www.ALSAFL.org.
Please join us in remembering Derrick by visiting our Memorial at evansfuneralhomeal.com.
Through this website, we invite you to share your thoughts and fond memories with our family. The condolence page shall be available until May 5, 2017.
He leaves us with this poem:
The Man in the Arena, by Theodore Roosevelt:
It is not the critic who counts; not the man who points out how the strong man stumbles, or where the doer of deeds could have done them better. The credit belongs to the man who is actually in the arena, whose face is marred by dust and sweat and blood; who strives valiantly; who errs, who comes short again and again, because there is no effort without error and shortcoming; but who does actually strive to do the deeds; who knows great enthusiasms, the great devotions; who spends himself in a worthy cause; who at the best knows in the end the triumph of high achievement, and who at the worst, if he fails, at least fails while daring greatly, so that his place shall never be with those cold and timid souls who neither know victory nor defeat.