IDA MARIE VERTRESS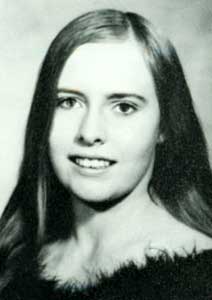 CLASS OF 1973
APRIL 3, 1955 - SEPTEMBER 21, 2017
Ida Marie Vertrees age 62 of Osawatomie, KS died Thursday September 21, 2017 at Olathe Medical Center in Olathe, Kansas.
Ida was born April 3, 1955 in Ottawa, Kansas. Her parents were Louis Hultz & Velma Marie (Morgan) Vertrees. She grew up near Greeley, Kansas where she attended school until she was a freshman in high school and transferred to Osawatomie. Ida graduated with the Osawatomie High School class of 1973.
After school, her dad got her a job doing secretarial work for BEHM in Osawatomie. She met Charles Clayton Hoffman and they were united in marriage on July 16, 1977 at the Spring Grove Friends Church in Lane, Kansas. She then started taking classes to be a nurse but didn't finish her degree. Ida started working for King Radio in Paola and worked her way up to lead machinist. She then went to work for Brewer's Automotive as a receptionist until fully retiring in 2003.
Ida's passion was horses. Her dad had her on a horse before she could even walk. She barrel raced and earned several trophies and belt buckles. She was a member of the Osawatomie and Louisburg horse clubs. Her parents had a horse arena that was west of Osawatomie and every other Saturday the horse clubs would meet there and have rodeos and showdeos. She loved to travel and would go to Branson with her friends. Ida even made friends with an Elvis impersonator named Joseph Hall that performed in Branson. She volunteered locally in the John Brown Cabin Museum and loved to help with the Freedom Festival and during the talking tombstones that happened every year in the park. Ida was a member of the Historical Society and the Church of Christ in Spring Hill. She was a foster grandma for a short time at the Osawatomie school district.
She was preceded in death by her husband Charles, her parents, sister Nadine Haycox, brother's in-law Carl Hoffman and Harold Stults Sr. and sister in law Diana Stults, two nephews Charlie Hoffman and Joshua Stickney.
Survived by her mother-in-law Carolee O'Brien of Paola, KS, Sister-in-Law Debbie (Brian) McQuay, Crystal Davis who she considered a daughter, her pet rabbit Peanut, sisters by choice Gracie Castleberry, Debbie Pennock, Betty White and Sharon "Wheezy" Seelnaught. A
Visitation 10-11 AM Wednesday, September 27, 2017 followed by
Service 11 AM Wednesday, September 27, 2017 all at the Eddy-Birchard Funeral Home
Burial Osawatomie Cemetery.
Memorials are to: John Brown Cabin and may be sent c/o Eddy-Birchard Funeral Home, P.O. Box 430 , Osawatomie, KS 66064