ROBERT E. "BOB" HOLLON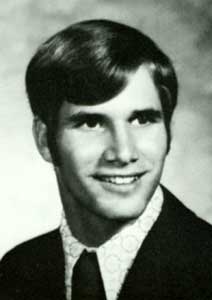 CLASS OF 1973
Robert E. "Bob" Hollon, 63, of Williamsburg, passed away Sunday, April 28, 2019, at Research Medical Center, Kansas City, Missouri.
Family will meet with friends from 6:30 p.m. to 7:30 p.m., Thursday, May 2, 2019, at Dengel & Son Mortuary.
Bob was born October 23, 1955, in Munich, Germany, the son of Robert B. and Phyllis J. (Bones) Hollon.
He was a lifelong Franklin County resident living in Ottawa and moving in 1994 to Homewood.
He graduated from Osawatomie High School with the class of 1973.
Bob served in the United States Army from 1973 to 1976.
Bob was united in marriage to Esther A. Barron June 24, 1978, in Ottawa, Kansas. She survives of the home.
Other survivors include two children, Christina M. Hollon-Wells and husband Charles of Bates City, Missouri and Alissa L. Goertz and husband Lucas of Odessa; two siblings, Terri Dixon and husband Gary of Rantoul and Mike Hollon of Melbourne, Florida; and five grandchildren, Caia Wells, Cayden Wells, Solomon Goertz, Thaddeus Goertz and Phineas Goertz.
He was preceded in death by his parents and sister, Cindy Hollon.
Bob worked for the City of Ottawa as a superintendent of the Waste Water Treatment Plant for over 33 years, retiring in 2013.
He was a member of the Sacred Heart Catholic Church.
Bob loved spending time with his family and many special events with his grandchildren. He enjoyed fishing, hunting, vegetable gardening and watching MASH. Bob liked playing softball and was a loyal Chiefs and Royals fan.
The family suggests memorial contributions to St. Jude Children's Research Hospital c/o Dengel & Son Mortuary, 235 S. Hickory, Ottawa, Kansas 66067.