STEVEN WALKER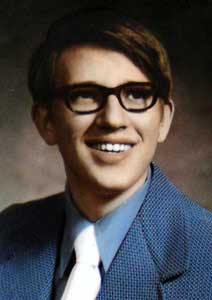 CLASS OF 1972
DECEMBER 1, 1954 - DECEMBER 12, 2012
Steven Merl Walker, of San Antonio, Texas, passed away on December 12, 2012, at the age of 58. He was born Dec. 1, 1954, at Florence, Kansas, to Kenneth Wayne and Opal Mae (Brewer) Walker.
Steve attended several elementary schools growing up, as Wayne, his father, was a telegrapher for Missouri Pacific Railroad, and the family moved where ever the job took them. They moved to Osawatomie in the early 1960's and Steve graduated from Osawatomie High School in 1972.
He continued his education in electronics and accepted a position with Ampex Corporation in Colorado Springs, Colorado, in 1974. He returned to Kansas in 1975 and began working as an Electronics Technician for King Radio (later to become Allied Signal) in Olathe, and later in Paola. Steve joined the training department of Allied-Signal in the early 1980's and traveled extensively training customers on the navigation products they purchased. He enjoyed the opportunity to travel overseas and experience many different cultures. He fulfilled his dream to fly when he earned his pilot's license in 1985.
He later held various positions with Raytheon E Systems, in Waco, Texas; Gulf Stream Airlines in Savannah, Georgia; was a Technical Writer at Penn State University, State College, Pennsylvania, and ended his career at NASA in Houston, Texas.
He was preceded in death by his father, Kenneth Wayne Walker in 1990. He is survived by his mother, Opal Walker, of Marion, Ks; two sons, Jared Wayne Walker and wife Julie of Phoenix, Arizona; and Brandon Lee Walker and wife Amanda , and granddaughter Lainey Mae Walker, all of Maple Grove, Minnesota; and a brother, Dennis Walker and wife Nadine of Apple Valley, Minnesota,
Graveside services will be held Thursday, Dec. 27, 2012 at 11:30 A.M. at Prairie Lawn Cemetery, Peabody, Kansas.
The family suggests memorials to the V Foundation for Cancer Research, in care of Zeiner Funeral Home, 205 Elm, Marion, Ks 66861.