BARBARA A. ELLIOTT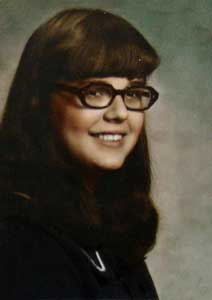 CLASS OF 1972
OCTOBER 17, 1954 - JUNE 25, 2016
Barbara A. Elliott age 61 of Rural Osawatomie (Stanton), KS died unexpectedly Saturday June 25, 2016 at her home.
Barbara was born on October 17, 1954 in the Philippine. She is the third of six children born to Harold Dave and Bertha Estelle (Robia) Elliott. Barbara was a military baby and so they traveled to many places. As a child she lived in places like Long Beach, California, Tulsa, Oklahoma and Nebraska. Until her dad got out of the military and they moved to Osawatomie. She attended school in Osawatomie and graduated with the class of 1972.
After high school, Barbara went to work. She worked for JC Penny's for a number of years. Also she had part time jobs at places like Rand's Gas Station and Holiday Manor, which is now Life Care Center.
Barbara was an avid reader. Her favorite authors were Steven King and Dean Kootnz. She loved to cook. Chicken and homemade dumplings and blueberry cheese cake were a couple of her family's favorites. If she got to choose where to go out to eat she would choose Chinese or Greek, those were her two favorite. Barbara loved to travel with her family and cross stitch. Around Christmas time she would bake cookie with her nieces. She enjoyed playing games like wahoo and scrabble with her nieces and nephews. She loved her nieces and nephews more than anything.
Growing up Barbara was a member of the Spring Grove Church. As an adult, she attended the Fontana Christian Church.
Barbara was preceded in death by her parents, one sister Elizabeth Gill and two nephews.
She is survived by her two brothers, Harold "Bud" Elliott of Leadville, CO and Robert Elliott of Europe, two sisters, Mary Fortner of Osawatomie, KS and Linda Garrison of Eldora, IA, 14 nieces and nephews, 11 great nieces and nephews and 5 great great nieces and nephews. Along with many other family and friends
Memorial service will be at 5 pm on August 13 at the Fontana Christian Church.
Arrangements by Eddy-Birchard Funeral Home, Osawatomie.