BRUCE HAROLD WAGGONER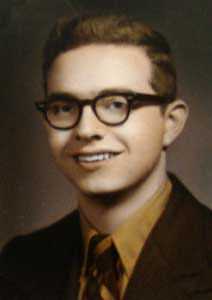 CLASS OF 1971
NOVEMBER 30, 1953 - MAY 3, 2000
Bruce Harold Waggoner, 46, an Osawatomie resident and businessman, died unexpectedly Wednesday, May 3, 2000, in Miami County Medical Center in Paola.
Born Nov. 30, 1953, in Kansas City, Mo., he was the son of Raymond Eugene and Virginia Frances Barber Waggoner. He grew up in Osawatomie, attended Osawatomie schools and was a 1971 graduate of Osawatomie High School. He earned a degree in business from Emporia State University in 1975.
After his graduation from ESU, he worked for First National Bank in Osawatomie and then for Citizen's State Bank in Shawnee. Later, he worked for a bank advisory company and traveled for two years.
Mr. Waggoner returned to Osawatomie in 1986 and opened his own business, Waggoner Financial Services. He leased the Osawatomie Golf Course from the city of Osawatomie in 1990 and Mr. Waggoner had been general manager of the golf course since that time.
He and Jeanne Moyer Davidson were married Jan. 3, 1992, in Olathe and they made their home in Osawatomie.
Mr. Waggoner was an avid golfer and loved to read.
His memberships included the Osawatomie Golf Course Men's Club, the Benevolent and Protective Order of Elks Lodge No. 921 of Osawatomie in which he was very active and the Osawatomie Chamber of Commerce.
Survivors include his wife, Jeanne Waggoner of the home; his parents of Osawatomie; a stepson, Jeff Davidson of Clyde; two brothers, Brent Waggoner and Brad Waggoner, both of Osawatomie; and a sister, Brenda Martin of Paola.
Mr. Waggoner was cremated and graveside services were held Monday in Osawatomie Cemetery. Arrangements were under the direction of Eddy-Birchard Funeral Home.
Memorial contributions may be made to Bruce Waggoner scholarship fund.