YVONNE G. VASQUEZ MONTGOMERY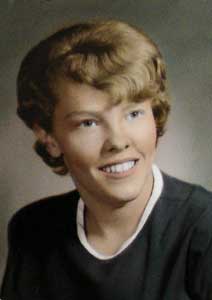 CLASS OF 1971
JULY 14, 1953 - APRIL 25, 2007
GALESBURG - Yvonne G. Montgomery, 53, of Galesburg died at 2:35 p.m. Wednesday, April 25, 2007, in the emergency room at Labette Health following an unexpected heart attack.
She was born on July 14, 1953, at Garnett to Merle Jean (Johnson) Castleberry. She was adopted by Joe Vasquez at age 12. She was raised in Osawatomie, graduating from Osawatomie High School in 1971. She became a registered nurse and was employed at the state hospital in Osawatomie for many years. After retiring because of health reasons, she moved to Galesburg in 1997.
She and Don L. Montgomery were married in 1977 at Paola. He preceded her in death on Nov. 26, 1996.
She attended Galesburg Christian Church. Her hobbies included watching football, farming, animals and working with computers.
Survivors include a son, Allen Montgomery of Independence; a daughter, Kristen Montgomery of Galesburg; three grandchildren; her parents, Joe and Jean Vasquez of Osawatomie; a brother, Joe E. Vasquez of Olathe; and a sister, Julie Jacobson of Wichita.
She also was preceded in death by a brother, Johnny Vasquez.
The body will be cremated. The service will be at 10 a.m. Saturday at Galesburg Christian Church with Pastor Jim French officiating. The family will receive friends after 9 a.m. today until service time Saturday at the church.
Memorials are suggested to Galesburg Christian Church or to the family to defray funeral expenses. Carson-Wall Funeral Home is in charge of the arrangements.