SHARON LYNETTE SUMRALL DELACRUZ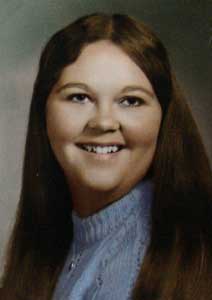 CLASS OF 1971
AUGUST 12, 1953 - APRIL 20, 1997
Sharon Lynette Sumrall DelaCruz, 43, Olathe, a former Osawatomie resident, died April 20, 1997, at Mid-America Rehabilitation Institute in Overland Park.
She was born August 12, 1953 in Houston, TX, the daughter of Orville Dean and Mary Frances Meiers Sumrall.
She grew up in Osawatomie, attended the schools there and graduated from Osawatomie High School with the Class of 1971.
She was married to Albert Thomas DelaCruz, Jr., on February 20, 1971 at St. Philip Neri Catholic Church in Osawatomie. They made their home in Osawatomie.
Mrs. DelaCruz was an active member of the Osawatomie community. She served on the Osawatomie Recreation Commission for several years.
She and her husband and their three children moved to Olathe in 1986. She operated a day-care center as long as her health permitted.
Preceding her in death were her parents, stepfather, two brothers and a sister.
Surviving are her husband, Tom DelaCruz, two sons, Nick DelaCruz and Luke DelaCruz Cruz and a daughter, Maria DelaCruz, all of the home; three brothers, Denis K. Sumrall of Boling Brook, IL, Kenneth D. Sumrall of Shawnee and Bryan D. Tyrell of Kansas City, MO; three sisters, Leslie G. Spitzenberger of Paola, Sheila M. Schultz of Olathe and Susan E. Dempsey of Osawatomie; 32 nieces and nephews; and nine great-nieces and nephews.
The rosary was recited at Eddy-Birchard Funeral Home, followed by a visitation. The Funeral Mass was at St. Philip Neri Catholic Church. The Rev. Joe Cramer and the Rev. Jerry Volz officiated. Hazel Wilhoite sang "Amazing Grace" and "Be Not Afraid". Other musical selections were "Because You Loved Me" and "Another Time, Another Place". Carol Walker was the organist.
Burial was in the Osawatomie Cemetery. Pallbearers were Doyle Ingram, Mark Govea, Mark Boguski, Stan Ricketts, Buel Talley, James Doolin and Dave Sleppy.
Memorials were to the American Diabetes Association.