DICKEY WADE SMITH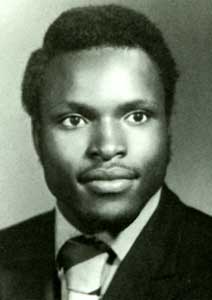 CLASS OF 1971
September 23, 1952 - November 1, 2017
On November 1, 2017, Dickey Wade Smith passed away peacefully at his home in Salt Lake City, Utah, at the age of 65. The third of 11 children, Dickey was born in Osawatomie, Kansas to Phyllis Smith and David Hinton, where he lived most of his life and where he met his childhood friend and future wife, Donita, the two were married on August 16, 1985 and remained married until his passing.

From an early age, Dickey showed a love of life and adventure. During the war in Vietnam, Dickey willfully enlisted in the U.S Marine Corps, allowing him the opportunity to travel and see the world while bravely serving his country. Upon his return to his hometown, his family grew with the birth of his son, Clifford, and his daughter TRutha. Later joining the family were two step-children, Kia, and Karim.

Dickey contributed to society working as a Welder, an Electrician, and finally, up until his retirement, worked as an over-the-road Truck Driver. The last 17 years of his life in Utah blessed Dickey with a total of five grandchildren, Taja, Devon, Karim Jr., Kurtis, and Khalil, all of whom were the pride and center of his life. He spoke proudly and often of all his grandchildren, always armed with the latest pictures and stories of adventure involving each of them. His last spoken words were about each of his children and grandchildren, and how much he loved them dearly.

Along with four children, and all his grandchildren, Dickey will be greatly missed by his remaining family of five brothers, three sisters, and a multitude of nieces, nephews, great-nieces, great-nephews, friends and acquaintances whose hearts he touched and inspired in ways that only now, since becoming part of infinite love and existence, he finally will know.

Funeral Services will be held Friday, November 3rd, at 2:00 pm, at the McKinley Ward, 1883 South West Temple, Salt Lake City, Utah, where a Viewing will be held prior from 12:30 to 1:30 pm.

Funeral Directors: Utah Valley Mortuary.
Funeral Service
NOV 3. 02:00 PM - 03:00 PM
McKinley Ward
1883 South West Temple
Salt Lake City, UT, US, 84115