REX A. ROSS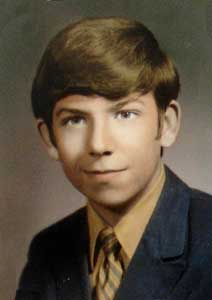 CLASS OF 1971
NOVEMBER 2, 1953 - DECEMBER 8, 2014
Rex Allen Ross, age 61, of rural Paola, Kansas died Monday, December 8, 2014 at the Olathe Medical Center.
Rex was born in Paola, Kansas on November 2, 1953 the oldest of three boys. The brothers all grew up in Osawatomie with their mother Shirley (Fields) McCoach and husband Troy McCoach. Rex attended school in Osawatomie and graduated from Osawatomie High School in the class of 1971.
Rex was married once in his younger years, he then met and married Toni Lynne (Courtney) Ross on November 13, 1988 in Eudora, Kansas. They became a family of his, hers, and ours. Rex was the patriarch, the one who would lead them in a lifetime of love, family projects and memories.
Rex worked as a journeyman boilermaker and was a member of the Boilermaker Union local #83. He retired in July of 2014 after 37 years.
He not only loved his family but had a love of horses, large and small. His favorite was miniature horses and he enjoyed making carts for them to pull the grandchildren around in. He loved to get all of his family involved in his projects. One of the fondest memories was when Rex purchased an old pontoon boat that was in desperate shape. Everyone worked on this "Bass Buggy" as it was fondly called from the oldest to the youngest. It then became a prized possession for the family to enjoy. Rex was offered many times over the amount he paid for this boat, but he proudly told them "Never would any amount of money be enough to pay for the wonderful memories in that boat."
Rex was an excellent builder and restorer of many types of things. When actor Jay Leno needed a part made for his vintage Steam Engine, many people tried to make it and failed. But not Rex, he made the part perfectly for Mr. Leno. This was just one of his many accomplishments.
He was a man who always took care of his family and friends. Rex was honest as the day is long and was not one to dance around with his words. He would definitely tell you how it was even if you didn't like it.
But you always knew he was giving you his honest opinion he wasn't one to sugar coat it for you. And this is just one of the many reasons so many will miss him.
He is preceded in death by his dad, Troy McCoach, one brother Ivan Ross and great grand baby Waylon Brott.
He is survived by his wife, Toni of the home, his mother, Shirley McCoach of Osawatomie, KS,one brother, Michael Ross of Osawatomie, KS, and his eleven children: Angel Runnels of Tulsa,OK, Clara Ross of Parker, KS, Rebekah Davis of Weatherford, TX, Jessica Pena of Weatherford, TX, Renee Rimshas of Burleson, TX, Ryan Courtney of Osawatomie, KS, Luke Ross of Arlington, TX, Raymond Courtney of Baldwin, KS, Brianna Estes of Osawatomie, KS, John Ross of Lenexa, KS, Joe Ross of Weatherford, TX, thirty-one grandchildren and one great grandson.
All services at Eddy-Birchard Funeral Home. Visitation: 4 - 8 PM Friday, December 12; Service: 11 AM Friday, December 12.
Burial at the Osawatomie Cemetery.