MICHAEL LESTER FORTMEYER, SR.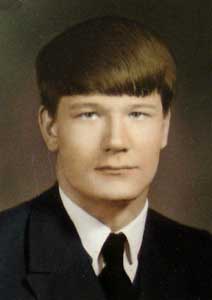 CLASS OF 1971
JUNE 11, 1953 - JUNE 19, 2005
Michael Lester Fortmeyer Sr., 52, Kansas City, Mo., formerly of Osawatomie, died unexpectedly Sunday, June 19, 2005, in his home.
He was born June 11, 1953, in Herington, Kan., the oldest of the three children of Ivan Lester and Marnell Maxine Stover Fortmeyer. The family moved to Osawatomie when he was 3 months old. He was a 1971 graduate of Osawatomie High School and attended Emporia State University for a year.
He began working for Consolidated Container Co. in Lenexa on Oct. 30, 1979. He was a machine operator and had worked there for 25 years. He had also worked for Hamm Construction in Herington.
He and Debra Darner were married June 4, 1977, in Osawatomie where they lived and became parents of two children. They were divorced in 1983.
Mr. Fortmeyer was raised in the Methodist church. He was a member of the Glass, Molders, Pottery, Plastic Allied Workers Union Local 233 of Lenexa.
Those preceding him in death included his father.
Survivors include his mother, Marnell Fortmeyer of Osawatomie; two sons, Michael Lester Fortmeyer Jr. and Jeremy Nathan Fortmeyer, both of Osawatomie; two sisters, Christine Elaine Adams of Kansas City, Kan., and Kathleen Denise Peace of Osawatomie; and three grandchildren.
Services will be at 1:30 p.m. Friday in Eddy-Birchard Funeral Home in Osawatomie. Visitation will be from 4 to 6 p.m. Thursday in the funeral home. Burial will be in Osawatomie Cemetery.