CORVAL DAY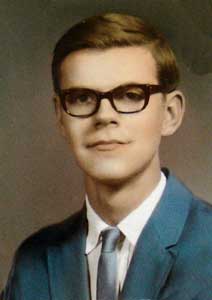 CLASS OF 1971
MAY 31, 1953 - OCTOBER 13, 1996
LaCygne - -Services for Corval Lawrence Day, rural LaCygne, were held Wednesday in the New Life Baptist Church.
Mrs. Day, 43, died Sunday, Oct. 13, 1996 of injuries suffered in a traffic accident one mile south of Henson.
He was born May 31, 1953 in Garnett, the son of Corval Wayne and Vera Mae Craig Day. He grew up in the Osawatomie area and was a 1971 graduate of Osawatomie High School.
He had been employed as a truck driver for Solid Waste Systems of Fontana for 22 years.
On March 6, 1981 he and Brenda Sue Nash were married in Oklahoma. They made their home in the LaCygne community and became the parents of two children.
Mr. Day was a member of the Beagle United Methodist Church and the Paola Fraternal Order of Eagles Aerie No. 2673.
Survivors include his wife, Brenda, and two children, Corval Max Day and Mara Nicole Day, all of the home; his parents of rural Osawatomie; and two sisters, Elda Mae Burch, Pleasanton, and Karen Kilbourn, Osawatomie.
The Rev. Allen Seimears and the Rev. Heather K. Hensarling officiated. Music was provided by Jean Nickell and Mildred Diehm. Pallbearers were Terry Wright, Ray Hood, Otis Snyder, Glen Bartlett, Bob Masenthin and Stan Salkill. Burial was in Brooklyn Cemetery. Arrangements were cared for by Mangold Funeral Home.
A memorial has been established in his name for his children's education. A fund has been set up at Citizens State Bank in Paola.