DEBORAH JO COOK DILLARD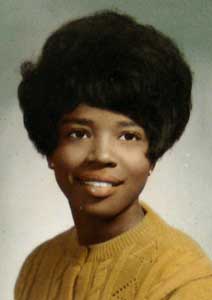 CLASS OF 1971
SEPTEMBER 5, 1953 - JANUARY 20, 1998
PAOLA- -Memorial services for Deborah Jo Dillard, Paola, were held Sunday in Wilson and Son Funeral Home.
Mrs. Dillard, 44, died Tuesday, Jan. 20, 1998 in her home. She had been ill for several months.
Born Sept 5, 1953 in Ottawa, she was the daughter of Calvin and Doris Woodson Cook. She grew up in Osawatomie and was a 1971 graduate of Osawatomie High School.
In 1973 she and John Dillard were married in Paola. They became the parents of a daughter. Their marriage ended in divorce.
Mrs. Dillard was a member of the Ebenezer Baptist Church of Osawatomie.
Among those preceding her in death were a brother and a grandson.
Survivors include her daughter, Crystal Dillard, Paola; her mother of Osawatomie; two sisters, Sheila Davis, Kansas City, Kan. and Barbara Watkins, Baltimore, Md.; and two grandsons.
The Rev. Willie Hinton officiated. Burial of the cremains was held in the Paola Cemetery.