JOHN ALVIN BUCKMAN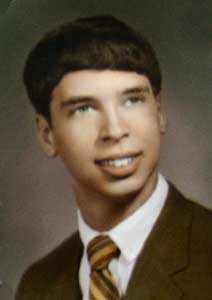 CLASS OF 1971
FEBRUARY 18, 1953 - JANUARY 18, 2017
John Alvin Buckman passed away on Wednesday, January 18, 2017 at Life Care Center in Osawatomie, Kansas. He was born February 18, 1953 to James Loren and Juanita Gwendolyn Ronsick Buckman in Ottawa, Kansas.
John and Leanna Irene (Bonner) Buckman were united in marriage on December 24, 1981. This marriage ended in divorce and they were reunited on October 14, 1989. They had four children together and he welcomed three step children.
He was married to April Kaye Springer Jarett on August 31, 1985 and they had one child together and he welcomed two step children.
John began his working life with the Missouri Pacific Railroad. After the railroad he held many different construction jobs until April 1978 when he became an apprentice with International Brotherhood of Electrical Workers Union 124. He worked many years in the Kansas City area as a journeyman electrician.
He was a life member of the North American Fishing Club. John was an active member of the National Rifle Association and an avid sportsman that loved anything about the outdoors. John loved camping, going to drag races, playing cards, fishing and hunting of any species no matter the size. He spent ten years of his life living in New Mexico riding ATV's, watching golf on tv and exploring the mountains searching for big elk and chasing antelope. John enjoyed gardening and canning. He collected knives and enjoyed designing handles and sharpening blades. John thought everyone needed a good, sharp knife.
He was a member of the First Baptist Church, Osawatomie
John graduated from Osawatomie High School in 1971 where he was active in basketball, football and track.
He was preceded in death by his wife, Leanna Irene (Bonner) Buckman and his mother, Juanita Gwendolyn Ronsick Buckman.
He is survived by his father, James (Jim) Loren Buckman, Osawatomie, Kansas; two brothers Jack Buckman and wife Vickie of Dennison, Texas and Jeffrey Buckman and wife Julie of Peculiar, Missouri and one sister, Janet Buckman of Lebanon, Missouri.
He is also survived by his children: Luke Joseph Buckman and his wife Lindsey Edington Buckman of Osage City, Kansas and their two children: Layton Joseph and Langston Edington: Shanna Suzanne Buckman Cook and her significant other Allan Burton of Centerville, Kansas and their two children: Wyatt James and Evan Jay; Tiffany Jane Buckman and her two children: Emily Jane and Azayl Robert; John Lawrence Buckman and his wife Jenna Kaye (Beneke) Buckman of Ottawa, Kansas and Seth James Buckman of Osawatomie and five step children; Christy Birchard, Jed Birchard, Matt Birchard, Kenneth Jarett and Amanda (Jarett) Schulte.
Cremation services are under the direction of Eddy Birchard Funeral Home. Graveside memorial service will be held at Osawatomie Cemetery on Saturday, January 28, 2017 at 1 p.m. In lieu of flowers, the family requests that memorials be made to the John Buckman Memorial Fund and can be sent to Eddy Birchard funeral home.