RICHARD W. WOBKER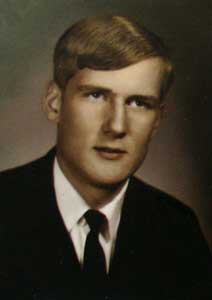 CLASS OF 1970
OCTOBER 15, 1952 - NOVEMBER 19, 2016
Richard Wayne Wobker age 64 of Drexel, MO died Saturday November 19, 2016 at Cass County Regional Hospital in Harrisonville, MO.
Richard was born October 15, 1952 in Rural Osawatomie, Kansas. He was the second of three children born to Manford Alvin and Verlie Willesta (Carpenter) Wobker. He grew up in Osawatomie where he attended school. He graduated from Osawatomie High School with the class of 1970.
After high school, Richard went to Pittsburg State University for a short time and then went into the Army Reserves. When he got out of the Army he went to work for his Dad at Wobker Motors. Throughout his life, Richard was a "jack of all trades". He was the co-owner of Main Events Arcade and Miami Bowl. He owned a number of car dealerships. He worked as a car salesman and insurance salesman. Lastly, he was a general contractor for CTI Construction Company.
He was very passionate about cars. He tinkered, fixed and sold them. Richard was very competitive. He loved Chiefs football. He coached little league football and basketball. He even taught people how to bowl. He himself was an avid bowler and bowled a couple perfect games in his lifetime. He also loved to golf. Richard was ornery. He never took life too serious and was always making the people around him laugh. He had many things he was proud of in his life and two of them were his sons, Corey and Elliott.
Richard was preceded in death by his parents.
He is survived by his sons Corey (Natalie) Burk of England and Elliott (Laiken) Wobker of Topeka, KS, seven grandchildren Tori, Kolby, Kolton, Kyler, Hayden, Weston, and Gavin. Brother Daniel (Wilma) Wobker of Linn Valley, KS and sister Carolyn (Steve) Shrock of Drexel, MO. Along with many other nieces, nephews, other family and friends.