JIMMY RAY ROSS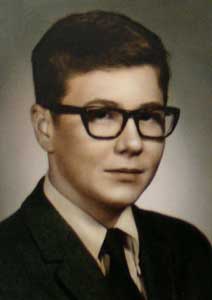 CLASS OF 1970
MAY 19, 1952 - NOVEMBER 24, 2015
Jimmy Ray Ross age 63 of Osawatomie, Kansas died November 24, 2015 at the Olathe Hospice House, Olathe, Kansas.
Jimmy was born on May 19, 1952, the second of two children to Ralph Mason and Helen G. (DeHart) Ross. He grew up and attended school in Osawatomie. In 1970, he graduated from Osawatomie High School and continued on to Fort Scott Community College for one year.
After school, he moved to Paola and worked as a manager of Kentucky Fried Chicken mostly working in the Miami County area. He moved to McPherson, Kansas for over a year to manage the KFC store there. After 12 years of working for KFC, he decided to go to work for his dad who owned Ralph Ross Construction Company. Jimmy worked for the construction company for 10 years until his Dad sold the business in 1991. Jimmy then went to work for the Miami County Road and Bridge department and he was a member of the sign crew. He left the road and bridge department after eleven years.
Jimmy was a collector, he collected many things from cast iron toys to Coca Cola collections. He loved to eat peanut M&M's and even collected M&M memorabilia. When he was not out hunting for new items for his collections or going on road trips, he loved to sit and watch a good John Wayne movie.
He loved his three children and his sister Linda.
Jimmy is preceded in death by his parents.
He is survived by his sister Linda (Lowell) Stevens of Paola, KS. Three children; Lorie (Bryan) Ramey of Galena, KS, Justin Ross of Ottawa, KS and Stephanie Ross of Paola, KS. Three grandchildren, Mya, Kirah and Alexa, along with nieces, nephews and other family.
Cremation
VISITATION: 5-7 PM THURSDAY, DECEMBER 3, 2015
EDDY-BIRCHARD FUNERAL HOME
MEMORIALS: MIAMI COUNTY CANCER FOUNDATION
Memorials may be sent in care of:
Eddy-Birchard Funeral Home
P.O. Box 430
Osawatomie, KS 66064