GERALDINE MARIE KUDER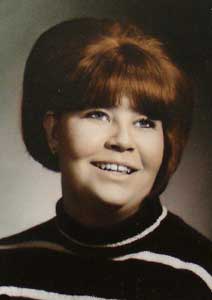 CLASS OF 1970
Memorials: Miami County Cancer Foundation
_____________________________________________________________________________
Geraldine Marie White age 67 of Lyndon, KS formerly of Osawatomie, KS died Saturday February 1, 2020 at Midland Care Connection in Topeka, KS.
Geraldine was born May 21, 1952 in Paola, KS. She was the 2nd of four children born to Jerry C. & Bessie Maude (Judd) Kuder. Geraldine grew up in Osawatomie where she attended school. Graduating with the Osawatomie High School class of 1970.
After high school, Geraldine moved around eastern Kansas. She worked as a nurse's aide. She worked for the Osawatomie State Hospital as a Mental Health tech for five years.
On July 10, 1981, Geraldine married Darrell White in Osawatomie, KS. Together they had one son Erik. Geraldine had two daughters Christina and Michelle and gained two step sons Jacob and Jason. The family made their home in Osawatomie. Until 1985, when Darrell died in a car accident.
Geraldine enjoyed sewing, crocheting and quilting. She liked playing BINGO and playing cards with her family. Geraldine loved music, especially her "husband" Elvis Presley. She was really good at music trivia and could still remember the titles and artists of songs. Geraldine would make homemade tortillas often. She also loved sitting on the porch and visiting with people. Geraldine was very involved with Mother's Against Destructive Decisions organization.
She was preceded in death by her husband Darrell, grandson Hayden White, her parents and one brother Rick Kuder.
Survivors include her children, Christina (Daniel) Mathias of Lyndon, KS, Michelle (Mike) Moore of McKinney, TX, Erik (Randi) White of Paola, KS, Jacob (Griselda) White of Rockwall, TX and Jason (Christine) White of Dallas, TX. Brothers Kenny (Martha) Kuder and Dennis (Sue) Kuder. Grandchildren Timothy, William and Daniel Jr. Mathias, Taylor and Kayleigh White and eleven great grandchildren. Along with other family and friends.
Visitation
Thursday, February 06, 2020
6:00 PM - 8:00 PM
Eddy-Birchard Funeral Home
Funeral Service
Saturday, February 08, 2020
10:30 AM
At Eddy-Birchard Funeral Home
Graveside Service
Saturday, February 08, 2020
Osawatomie Cemetery
327th and Osawatomie Rd
Paola, Kansas 66064