ELIZABETH ELLIOTT RUSSELL GILL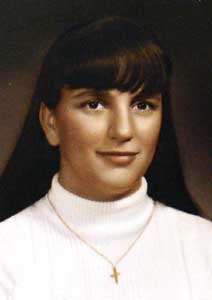 CLASS OF 1970
JANUARY 31, 1952 - DECEMBER 25, 2013
Elizabeth Carolyn (Elliott) Russell Gill age 61, of Osawatomie, Kansas died Wednesday, December 25, 2013 at the Life Care Center of Osawatomie.
Elizabeth was born January 31, 1952 in Gardner, Kansas the second of six children to Harold and Bertha (Robey) Elliott.
She attended several elementary schools while her father was in the U. S. Navy and was moved several times. The family finally settled in Osawatomie and Elizabeth attended Osawatomie schools, graduating from Osawatomie High School with the class of 1970.
In 1971 Elizabeth married William "Bill" Russell in Lane, Kansas, they became the parents of two children. The marriage ended in divorce in 1983. She later was married for a short time to Shawn Gill, this marriage ended in divorce.
She was employed for over twenty-four years at the Osawatomie State Hospital as a Mental Health Aide II. She retired in 1996 due to health issues.
Elizabeth had courageously battled and survived for over seventeen years, breast cancer, brain aneurysm, diabetes, several strokes and heart issues. Her illnesses did not allow her to do many activities but she did enjoy crocheting, jigsaw puzzles, playing games, crossword puzzles, watching movies and arts and crafts at the nursing home. But mostly her pleasure was her family, the love for her children, grandchildren and family was most important to her. She loved spending time with them all.
She was preceded in death by her parents.
Elizabeth is survived by her two children: John Russell of Osawatomie, KS and Brenda King of Osawatomie, KS. Two brothers: Harold "Bud" Elliott of Leadville, CO and Robert "Bob" Elliott of Chicago, Ill. Three sisters: Barbara Elliott of Osawatomie, KS, Mary Lou Fortner of Osawatomie, KS and Linda Kay Garrison of Eldora, IA, four grandchildren: Kati King, Jessi King, Brian King and Gracie Russell all of Osawatomie, KS and many nieces and nephews, all of whom she loved dearly.
VISITATION: 6-8PM WEDNESDAY, JANUARY 1, 2014
SERVICE: 4PM THURSDAY, JANUARY 2, 2014
ALL SERVICES AT THE EDDY-BIRCHARD FUNERAL HOME.
CREMATION TO FOLLOW SERVICES
MEMORIALS: ELIZABETH RUSSELL GILL MEMORIAL FUND
Memorials may be sent in care of the Eddy-Birchard Funeral Home P.O. Box 430 Osawatomie, KS 66064