DENNIS H. CROWL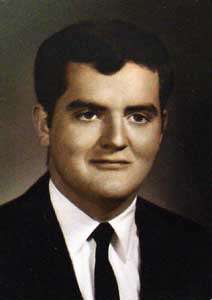 CLASS OF 1970
AUGUST 29, 1952 - JUNE 17, 2017
Dennis Howard Crowl, age 64, of Paola, passed away Saturday, June 17, 2017, at Brookdale Rosehill Skilled Nursing Facility, Shawnee, Kansas.
Dennis was born August 29, 1952, at Chanute, Kansas. He was the son of James C. and Merriam Ella (Lowry) Crowl. His family moved to Miami County in 1961. Dennis had made Miami County his home since that time. He graduated from Osawatomie High School with the class of 1970. He then attended Emporia State University, earning a major in Business and a minor in Psychology. He was a member of the Sigma Tau Gamma fraternity while attending Emporia State University.
Dennis was united in marriage to Karla Miller on July 7, 1984, in the Old Stone Church at Osawatomie. They made their home in Paola and became the parents of four children.
Dennis was a locomotive engineer for Missouri Pacific Railroad, which merged and became Union Pacific Railroad in 1985. He was a member of the Brotherhood of Locomotive Engineers Union, where he served as local chairman for 12 years.
He loved watching his kids play sports. If you ever saw Dennis reading a book, it was more than likely a science fiction or fantasy novel. When it came to movies, he enjoyed westerns and science fiction. Dennis was the chef of his house, he was a great cook. His favorite music was of the 70s era. He made two trips to Europe in his lifetime. One of those trips was spent back-packing in Ireland for 45 days.
He was preceded in death by: his parents; and one brother, Leonard.
He is survived by: his wife, Karla, of the home; two daughters, Kyla Crowl (Michael Switzer), of Paola and Kara Crowl (Tyler Antwine), of Olathe, Kansas; two sons, Casey Crowl (Mallory Smith) and Tyler Crowl, of Olathe; his sister, Dianne Crowl-Ventura (Jim) ,of Greeley; his brother, Jim Crowl (Saundra), of Osawatomie; grandson, Silas; many other relatives and friends. As published in the Miami County Republic.
Memorial visitation will be held Friday, June 23, 2017, at Dengel & Son Mortuary-Crematory, 605 ONeal Ave., Osawatomie, KS 66064.
Memorial service will be held at 1:30 p.m. Saturday, June 24, 2017, at the funeral home.
Contributions in memory of Dennis are to the Salvation Army, and can be sent in care of the funeral home.