LEONARD SCOTT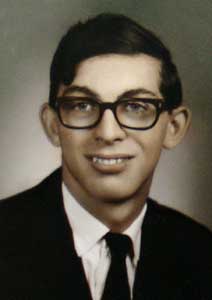 CLASS OF 1969
Visitation: 2-5 pm Sunday June 30, 2019
Service: 10 am Monday July 1, 2019 all at The Eddy-Birchard Funeral Home
Burial: Cadmus Cemetery
Memorial: American Heart Association
send c/o Eddy-Birchard Funeral Home
P.O. Box 430
Osawatomie, KS 66064
__________________________________________________________________________________________
Leonard Ray Scott age 69 of Linwood, KS formerly of Osawatomie, KS died Wednesday June 26, 2019 at Olathe Medical Center.
Leonard was born June 12, 1950 in Paola, Kansas. He was the third of six children born to William Malon and Sylva Iola (Chamberlain) Scott. Leonard grew up in Osawatomie where he attended school. Graduating with the Osawatomie High School class of 1969.
After high school, Leonard enlisted into the United States Air Force. He served for 4 years and 8 months and was honorably discharged in May 1977. He then went to work for Dazey Corporation for over 15 years. He started in the maintenance department and then he worked on the assembly line. While working for Dazey Corporation, Leonard met Darla Wrightsman. They were united in marriage on December 28, 1987 in Osawatomie. Leonard then went to work for Wal-Mart in Paola as a greeter. In 2016, Leonard retired after 15 years.
Leonard loved watching the Kansas City Royals and Chiefs. He watched NASCAR, Crime Dramas and other sports. Leonard took care of his dachshunds puppies. He was a member of the Nazarene Church of Osawatomie and he and Darla cleaned the church. Recently, Leonard was attending Lawrence 1st Church of Nazarene.
Leonard was preceded in death by his parents.
Survivors include his wife of 31 years, Darla of the home. Son Kelly Scott of Topeka, KS, three grandchildren Abigail Scott of Osawatomie, KS, William Scott and Joshua Scott both of Haviland, KS. Siblings Howard (Concordia) Scott of San Antonio, TX, Rosetta Croan of Centerville, KS, Vernon (Barbara) Scott of Kansas City, KS, Verlyn (Beverly) Scott of Paola, KS and Milton (Loretta) Scott of Ottawa, KS. Along with other family and friends.