PATRICIA DIEHM BARNETT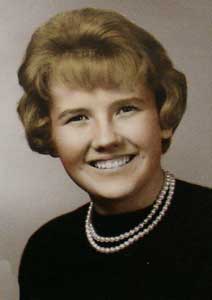 CLASS OF 1965
DECEMBER 17, 1947- NOVEMBER 8, 2018
Patricia Ann "Pat" Barnett age 70 of Paola, KS died Thursday November 8, 2018 at Olathe Hospice House in Olathe, KS.
Pat was born on December 17, 1947 in Paola, KS. She was the second of three children born to Ralph E. and Marjorie Doris (Davidson) Diehm. Pat grew up in Osawatomie where she attended school. She graduated with the Osawatomie High School Class of 1965.
After high school, Pat took some class at Johnson County Community College. She then went to work for Dodson Insurance Company in Overland Park, KS for a short time before starting here career for the State of Kansas. Pat spent 33 years as an administrative assistant for Kansas Department of Transportation. She worked in the Olathe, KS office. She retired in 1995.
Pat then went to work at the local Wal-Mart in 1987. She started out in the fabrics department but also worked as a cashier. After 25 years working for Wal-Mart Pat retired in 2012.
In her spare time, Pat square danced with the Frontier Twirlers. She was a member of the First Presbyterian Church in Osawatomie and also a member of the Rebekah Lodge #242. Pat also loved to crochet.
She was preceded in death by her parents.
Surviors include her brothers Kenneth Diehm (Rebecca) of Osawatomie, KS and James Diehm (Wilma) of Lynnwood Washington a niece Ashley Diehm and a nephew Michael Diehm. Along with other family and friends. Cremation

Service: 1 pm Friday November 16, 2018 First Presbyterian Church of Osawatomie.

Memorials: First Presbyterian Church of Osawatomie