MARILYN JEAN (CAYLOR) STEVENSON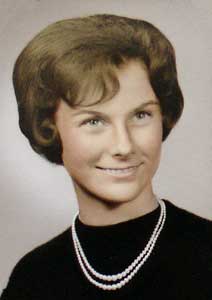 CLASS OF 1965
Marilyn Jean Stevenson, age 71, of Osawatomie, Kansas, passed away on Tuesday, July 16, 2019 at the Olathe Hospice House, Olathe, Kansas.
Marilyn was born on January 13, 1948, at Paola, Kansas. She was the first of three children born to Marvin E. and Mary L. (Goudie) Caylor. She grew up in the Stanton area, attending grade school at Stanton, and graduating from Osawatomie High School in 1965. Marilyn married Fred Stevenson in 1967. Their union was blessed with two children, Kendall and Juliane. They later divorced in 1993.
Marilyn lived in the Rantoul for most of her life. When her children were young she loved the years she was able to spend as a homemaker. Marilyn worked as a secretary in Osawatomie, Paola and Ottawa for many years, before being trained in tax preparation. She then worked for H&R Block and Bruce Waggoner Financial. In her retirement she found a great deal of joy in volunteering at the Garnett Sr. Center and at the Anderson County Hospital. Marilyn was one who could always be counted on to be there by her family and friends as she was willing to help in any way she could. She was an avid member of the Beacon Of Truth Church. Marilyn devoted her life to spreading the word of her Savior. Her family was a great source of joy to her, she especially loved attending her grandchildren's sporting events.
She was preceded in death by her parents.
Marilyn is survived by her son, Kendall Stevenson of Rantoul, Kansas; daughter, Juli Roach of Osawatomie, Kansas; two grandchildren, Amanda and Tyler Stevenson of Rantoul; sister, Maxine Goodwin of Lane, Kansas; and brother, Jim Caylor of Mapleton, Kansas;
Funeral services will be held at 10:00 AM, Monday, July 22, 2019, at the Feuerborn Family Funeral Service Chapel, Garnett, Kansas. Burial will follow in the Osawatomie Cemetery, Osawatomie, Kansas. The family will greet friends from 5:00 to 7:00 PM, Sunday evening at the funeral home. Memorial contributions may be made to Olathe Hospice House and left in care of the funeral home. Condolences may be sent to the family at
www.feuerbornfuneral.com
.