HELEN KATHERINE "KATHY" (AKERS) NEWMAN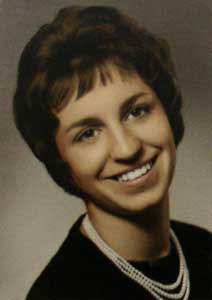 CLASS OF 1963
Visitation & Rosary: 10-11 am Saturday June 8, 2019 followed by
Service: 11 am Saturday all at St. Philip Neri Catholic Church
Burial: Osawatomie Cemetery
Memorial: St. Philip Neri Catholic Church of Osawatomie
___________________________________________________________________________________
Helen Katherine "Kathy" (Akers) Newman of Paola, KS formerly of Osawatomie died Monday June 3, 2019 at Life Care Center of Osawatomie.
Kathy was born July 21, 1945 in Paola, Kansas the second of four children to Lawrence Edward "Larry" Akers and Doris Louise (Stein) Akers.
She grew up in Osawatomie and attended elementary school at St. Philip Neri and graduated from Osawatomie High School in the class of 1963. On June 29, 1963 she married Willis Raymond "Bill" Birchard they made their home in Osawatomie and they became the parents of two children. The marriage ended in divorce in 1967.
At the age of sixteen Kathy got her first job. She went to work for J.C. Penney's Department store as a window dresser. Kathy later was employed at Dr.Harville's office in Osawatomie from 1963 until 1969 as a dental assistant. In 1969 she went to work at the Osawatomie State Hospital in the medical and surgical unit as a psychiatric aide, then working in the dental clinic as a dental assistant. Later she was certified by the state of Kansas in Topeka as a dental assistant with expanded duties and managed the dental office at the Osawatomie State Hospital. She held that position until she retired in 1993.
In 1969 she married Tom Newman in Olathe, Ks and they made their home in Paola, KS that marriage ended in divorce in 1980.
Kathy belonged to Sub Debs in high school and at one time she was the past president.
She was a member of the Altar Society in Paola and in Osawatomie.
Kathy loved music and liked to dance, she enjoyed reading and crafts, but work, home and family were the most important things to her, more than anything she loved spending time with her grandchildren.
She is preceded in death by her parents, and her only brother Patrick Lawrence Akers.
Kathy is survived by her two children: Willis Gerard "Bill" Birchard of Ottertail, MN and Julie Ann Timblin of Paola, KS, two sisters: Joan E. Koup, and Mary Ann Stewart both of Osawatomie, four grandchildren Alexandra, Zachary, Madison and Caylor, one great grandchild Aiden, many family members and a host of friends.