RICHARD DURFEE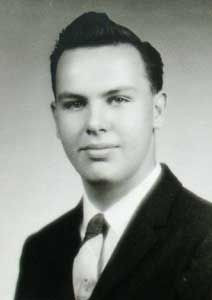 CLASS OF 1959
AUGUST 31, 1941 - AUGUST 24, 1995
Services for Richard Franklin Durfee, DeKalb, Ill., were held in the First United Methodist Church in DeKalb.
Mr. Durfee died August 24, 1995 in Kishwaukee Community Hospital. He was 53.
He was born Aug. 31, 1941 in Osawatomie and his parents were Richard and Verna Durfee.
Mr. Durfee grew up in Osawatomie, attended local schools and was a 1959 graduate of Osawatomie High School. He married Cherie Rene Pinkerton Oct. 13, 1964 in Montgomery, Ala.
He was director of Registration and Records at Northern Illinois University. He earned a bachelor's degree from Emporia State University and a master's degree from Ohio State University.
Besides being a member of the church, he was a member of Kishwaukee Kiwanis Club and served as secretary. He was president-elect of Illinois Association of Collegiate Registrars and Admissions Officers and was a U.S. Air Force veteran.
Survivors include his wife, Cherie, of the home; a son, Paul Durfee, Bloomington; a daughter, Stephanie Durfee, DeKalb; his mother, Verna Bradshaw, Osawatomie; a sister, Joanne Hill, Osawatomie and a granddaughter.
The Rev. David W. Carlisle officiated. Burial was in Fairview Park Cemetery.
A memorial was established in his name in care of Anderson Funeral Home.