CHARLES SPELLMAN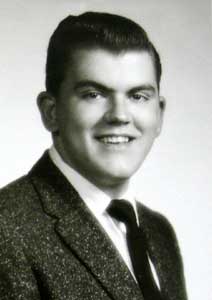 CLASS OF 1958
Charles R. "Chuck" Spellman, 79, of rural Mound Valley, died at 7:05 a.m., Saturday, August 17, 2019 at the Parsons Presbyterian Manor.
He was born June 18, 1940, at Osawatomie, to Mearl Richard and Lula Mae (Needham) Spellman. He grew up there and graduated from Osawatomie High School. He earned a Bachelor's degree from Baker University and a Master's degree from K.U. and Ed.D. (Doctor of Education) from K.U. in the field of special education. Early in his career he taught a few years
in the public schools in Linwood and Easton, KS.
Chuck came to Parsons in 1972 to be the Education Specialist with the University of Kansas Affiliated Facility, a part of the K.U. Bureau of Child Research, which later became the Schiefelbusch Institute for Life Span Studies (LSI). He began writing federal and state grants in 1974 and brought millions of dollars into Kansas in order to pursue his research and service interests. At one time he was the all time leader in federal dollars awarded to any Principal Investigator at the LSI but has since been surpassed by a couple of others whose careers continue now, 12 years after his retirement. Highlights of his career are the development of a model for providing education services to students with significant intellectual disabilities and his creation of the Assistive Technology for Kansans project that continues to be federally funded 26 years after its inception. He co-authored dozens of professional journal articles and book chapters. He retired in 2007, after 39 years of service, as Senior Scientist Emeritus.
His first marriage was to Carole "Kelly" Wheeler. They later divorced. On January 4, 1995 he and Pamela (Field) Cress were married at Eureka Springs, AR. She survives of the home.
Also surviving are two daughters, Stacy Braman (Wes) and Jennifer Bennett, of Parsons; 15 grandchildren, Caleb Ozier, Andrew Ozier, Maren Ozier, Crystal Edwards, Rodney Jakee, Britney Neil, Heidi Wood, Chelsea Williams, Seth Bennett, Hayden Bennett, Jackson Braman, Morgan Braman, Taylor Braman, Chapel Braman and Boston Braman;18 great-grandchildren; two sisters, Rita Nichols of Topeka and Avis Rush of Paola; and a sister-in-law, Donna Spellman of Cedar Rapids, IA. Preceding him in death was a son, Matthew Spellman, who died on November 1, 2000 and a brother, William Spellman.
Chuck bequeathed his body to the University of Kansas Medical School.
There will be a come and go "Party" in Chuck's memory the evening of Friday, September 20 at the home of his daughter, Stacy Braman in Parsons.


Memorials are suggested to the Charles R. Spellman Memorial Scholarship Fund for the study of dementia at the University of Kansas. Checks for the memorial should be made to K.U. ENDOWMENT. They may be left at or sent to the Carson-Wall Funeral Home at Box 942, Parsons, KS 67357. Online messages may be left at www.wallfuneralservices.com.