CHARLES KOURNIES SHAW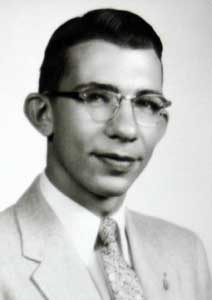 CLASS OF 1958
JANUARY 10, 1940 - JANUARY 5, 2007
Charles Kournies Shaw, age 66, of Flower Mound, TX, formerly of Slidell, LA, passed away Friday, January 5, 2007, following a long battle with lung cancer.
Charles was born January 10, 1940, to John R. Shaw and Arlene Crammer in Garnett, KS. Charles lived in Slidell since 1978 and moved to Flower Mound, TX, in April 2006.
He was a member of the Aldersgate United Methodist Church and the Louisiana Methodist Cursillo. He reigned as King of the 2000 Slidell Newcomers Mardi Gras Ball and was active in the Slidell Men's Bowling Association.
Charles worked as a Geophysicist with the Naval Oceanograhic Office at the Stennis Space Center in Bay, St. Louis, Mississippi, retiring in 2003 after 40 plus years of civilian service with the Department of Defense.
Charles is survived by his wife, Marilyn C. Shaw of Flower Mound; sons, David Shaw of Phoenix, AZ, and Mark Shaw and wife, Tonya, of Highland Village, TX; grandchildren, Abigail and Owen of Highland Village, TX; mother, Arlene Shaw of Pittsburg, KS; brother, Dale R. Shaw and wife, Carol, of Kansas City, MO; sister, Rita Hudson and husband, Richard, of Pittsburg, KS; and many nieces, nephews and a host of friends. He was preceded in death by his father, February 2006.
A funeral service is planned for Saturday, January 13, 2007, 11:00 a.m. at Aldersgate Methodist Church in Slidell, LA. The family has requested that memorial donations be made in Charles' name to the American Cancer Society, Greater Dallas Unit, P.O. Box 560089, Dallas, TX 75356 or the Aldersgate United Methodist Church, 360 Robert Blvd., Slidell, LA 70458. Mulkey-Mason Funeral Home, Lewisville, Texas is in charge of the arrangements.