RAY McDOWELL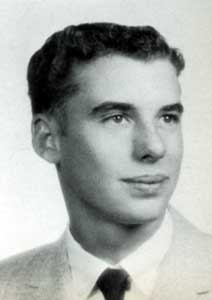 CLASS OF 1958
JULY 25, 1941 - MAY 2, 1981
Ray LaMont McDowell, 39, of Parkville, Mo., died unexpectedly at his home Saturday, May 2, 1981. Services for Mr. McDowell were held Monday in Eddy-Birchard Funeral Home.
He was born July 25, 1941, in Osawatomie, the youngest of 10 children of Roy and Ida Mae Groves McDowell. Shortly after his birth, his mother died and the family was separated. Mr. McDowell and his brother, Wilford, were raised by an aunt and uncle, Bertha and Everett Brockman.
Mr. McDowell graduated from Osawatomie High School in 1958.
He married Ramona Casto June 25, 1960, in Osawatomie. They lived in Chicago, Ill., for four years and then returned to the Kansas City area. They were parents of two daughters. The marriage ended in divorce in 1969.
Mr. McDowell worked as a driver for Greyhound Bus Company and as a pipefitter in construction work. He and two of his brothers recently formed the 3M Company and were doing sub-contract work for Scimitar Resources Ltd. and Aegean Petroleums Inc..
He was a member of the Teamsters Union and Pipefitters Union Local 658 of Joplin, Mo.
He married Deanna "Danny" L. McCluskey Nov. 23, 1971, in Kansas City, Mo., and they were parents of one daughter.
Preceding him in death were three brothers, Everett LeRoy McDowell Jr., Harold McDowell and Gerald McDowell.
Among the survivors are his wife, Deanna, of the home; three daughters, Stacey Rae McDowell, of the home, Rochelle Dawn McDowell and Renee Marie McDowell, Hickman Mills, Mo.; a step-daughter, Dana Dee McCluskey, of the home; four brothers, Bud McDowell, Freeport, Texas, Wilford McDowell, Kansas City, Kan., and Everett Allen McDowell and Lavern McDowell, Osawatomie; and two sisters, Veda Mae Whitehurts, Ardmore, Okla., and Wanda Hazen, Bonner Springs.
The Rev. John Adams officiated at the services. Bill Roberts was the soloist. Honorary pallbearers were Skip Bond, Curtis Altman, Alvin Hay, Bill Tousley, Paul Tyrell and Joseph Fenoughty. Active pallbearers were Gil Barthel, Herb Marsh, Larry Rhodes, Robert Barrett, Darrell Williamson and William Johns. Burial was in the Osawatomie Cemetery.