GAY HARDESTY HUMPHREY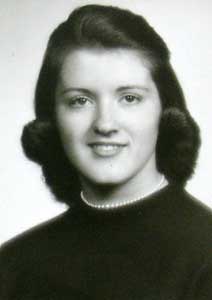 CLASS OF 1958
SEPTEMBER 1, 1940 - JANUARY 17, 2008
Karen Gay (Hardesty) Humphrey, age 67, of Gardner, Kansas, formerly of Osawatomie, died Thursday, January 17, 2008 at Olathe Medical Center.
She was born September 1, 1940 at Marshalltown, Iowa. She was the oldest of three children born to Glenn "Dutch" and Virginia (Hubbard) Hardesty. She graduated from Osawatomie High School with the Class of 1958. She attended x-ray school at St. Luke's in Kansas City right after graduating from high school.
She was married to Darrell Williamson in the early '60s. They became the parents of one son. Their marriage ended in divorce.
She married Larry Humphrey in the mid '60s and they were divorced after almost 30 years of marriage.
She worked as a registered nuclear medicine technician at St. Joseph Health Center in Kansas City, Missouri.
She was preceded in death by her father and one brother Gary Hardesty who died in infancy.
She is survived by her mother Virginia (Hardesty) Landes; her son Gary Williamson (and wife Stephanie); her brother Jerry Hardesty and his wife Pam; one granddaughter Kaitlynne Williamson; her fiancé Ronald Sutton, other relatives and many friends.
Funeral services will be held at 11 a.m., Thursday, January 24, 2008 at Eddy-Birchard Funeral Home in Osawatomie. She will lie in state after 1 p.m., Wednesday, with visitation from 6 to 8 p.m. Wednesday evening. Burial will be in the Osawatomie Cemetery. Memorials have been established with the K. U. Endowment Association, Karen Gay Hardesty-Humphrey Lung Cancer Fund.