KAREN BARRETT CAYLOR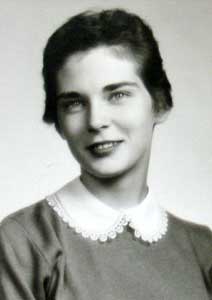 CLASS OF 1958
d. FEBRUARY 11, 2017
KAREN LYNN (BARRETT) CAYLOR, 75, was born at St. Luke's Hospital and passed away at St. Luke's South on February 11, 2017 from complications of progressive supra-nuclear palsy (PSP). Memorial service will be held at St. Thomas the Apostle Episcopal Church,12251 Antioch, Overland Park,KS, Friday, February 17 at 2pm. Burial service will be Monday, February 20 at 10am at the Leavenworth National Cemetery, 150 Muncie Road, Leavenworth, KS.
Karen graduated from Osawatomie High School and earned an accounting degree from Kansas University.
On September 3, 1960 she married Eugene Caylor and had two children: Katherine Reid (Bruce) and Erik (Nicole), and three grandchildren: Britton Reid and Amelia & Charlotte Caylor. Karen was a loving mother and grandmother who supported her family as a scout leader and in various positions with her church and social/charity organizations. As the wife of a military officer, Karen lived in Europe for 6 years. In retirement she enjoyed bridge, genealogy research, and worldwide travel.
Karen traveled in Egypt, Israel, Morocco, China, New Zealand, Australia, and nearly every country in Europe.
She is survived by her spouse, 2 children, 3 grandchildren, and 2 sisters.