DR. SAMUEL McDOWELL 'MAC' STEELE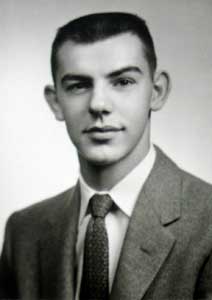 CLASS OF 1957
MARCH 16, 1939 - FEBRUARY 3, 2018
Samuel McDowell Steele, Jr. M.D. was born on March 16, 1939 to Maxine Meek Steele and Samuel McDowell Steele at their home in Osawatomie, Kansas. He passed away February 2, 2018 at his home in Newland, North Carolina.
He graduated from Osawatomie High School in 1957 and earned a BS and MS in Mathematics at Pittsburg State University and an MD from the University of Kansas. He was a graduate of the National War College at Fort Lesley J. McNair, Washington, D.C.
After being graduated from the University of Kansas, he did an internship in the U.S. Navy at Charleston, SC. His residency was at the Naval Regional Medical Center in Philadelphia, PA in Urology. Included in his 27 year Naval Career Captain Steele was Chairman of Urology in Portsmouth, VA with 8 residents and Task Force Director of the Combat Casualty Car Course at Fort Sam Houston Texas.
His military medals include the Legion of Merit, Joint Service Commendation Medal, Navy Commendation Medal, and National Defense Medal x 2. Other recognitions are The Committee on Emergency Medical Service, American Medical Association presented and Award of Appreciation for his contributions toward improvement of medical readiness in the uniformed services and for the planning, development, implementation and guidance of the Armed Forces Combat Casualty Care Course; Pittsburg State University Alumni Meritorious Achievement award; and Outstanding Alumnus for Osawatomie High School.
After leaving the Navy he came to Avery County in 1993 to practice at Charles A. Cannon and Sloop Hospital and later added Spruce Pine Hospital in Mitchell County. He very much enjoyed his years practicing Urology in the mountains.
He loved the Lord and had served on the deacon body at First Baptist Church Newland.
He enjoyed swimming, scuba diving and snow skiing. He and his wife, Olivia, enjoyed traveling all over the world and going to the Atlantic Coast beaches. He especially looked forward to going to alumni reunions in Kansas and to his war college class Christmas party in the Washington D.C. area.
He leaves behind his wife of 57 years Olivia Smith Steele, of the home, his son Andrew of Albuquerque, NM, sister-in-law Shirley Shores and husband Wyman of Galveston, TX, and sister-in-law Anna Smith of Gassville, AR.
The service will be conducted by Dr. Bill M. Jones at First Baptist Church Newland on Tuesday, February 6. Visitation is at 3PM and funeral service at 4PM. A military graveside service will be February 13, at 2PM in the Osawatomie Cemetery in Osawatomie, KS.
Memorials can be made to First Baptist Church Newland, P.O. Box 485, Newland, NC 28657 or Backpack Ministry ACMN, C/O Linville UMC, P.O. Box 94, Linville, NC 28646
Words of Comfort and Memories may be shared with the Steele family by visiting our website: www.rsfh.net
Graveside service 2 PM Tuesday, February 13, 2018 at Osawatomie Cemetery, Osawatomie, Kansas with military honors.