KAREN IRENE POLLEY KELLOGG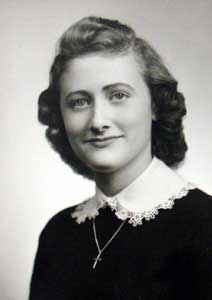 CLASS OF 1957
SEPTEMBER 8, 1939 - MAY 19, 2017
Karen Irene Kellogg, age 77, of Rich Hill, MO, died May 19, 2017, at Saint Lukes Hospital, in Kansas City, Missouri.
Karen was born on September 8, 1939, to Donald Jack and Avis Polley, in Greeley, Kansas.
She attended elementary school in Parker, Kansas, and high school in Osawatomie, Kansas, where she graduated with the class of 1957. After graduation, she attended Pittsburg State University for a year, and then went to work at Hallmark Cards, in Kansas City, Missouri, where she met her husband, Charlie. They were married June 30, 1960, in Osawatomie. They made their home in Overland Park, Kansas, and had two children, Scott and Jackie Kellogg.
In 1967, they moved back to Osawatomie and Karen returned to college at Ottawa University, where she graduated in 1968, and began teaching fourth grade at Osawatomie. In 1973, they moved to Rich Hill, where Karen continued to teach fourth grade, while Charlie began teaching and coaching basketball at Rich Hill High School.
Karen enjoyed a long career teaching at Rich Hill, retiring in 1998. She was an avid sports fan, attending countless Rich Hill High School sporting events over the years, watching first her children, and then her grandchildren compete. Karen and Charlie were also big KU basketball fans, attending many of those games as well.
Karen is survived by: her son, Scott, of El Dorado, Kansas; and her daughter, Jackie, of Rich Hill; four grandchildren, Christopher Kellogg, of Portland, Oregon, Jackson Duncan, of Rich Hill, Charlie Kellogg, of El Dorado, and Serena Duncan, of Rich Hill; her sister, Mildred Leveridge, of Irvin, Texas; nieces, Rene Kellogg, Nancy Clark and Shane Simpson; nephews, Jon Kellogg, James Kellogg, Tony Bertone, Shawn Leveridge, Steve Bertone, Tommy Kellogg; and numerous great nieces and nephews.
Karen was preceded in death by her husband, Charles Kellogg; parents, Jack and Avis Polley; in-laws, James and Amelia Kellogg; and her sister, Evelyn Bertone.
Funeral:10:30 a.m. Thursday, Heuser Funeral Home, Rich Hill, Pastor Tommy Freeman officiating.
Interment: Osawatomie Cemetery. As published in the Miami County Republic.