J. D. GOODWIN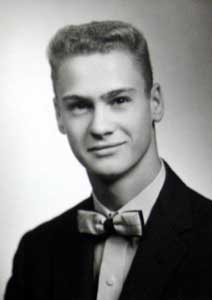 CLASS OF 1957
JANUARY 6, 1940 - NOVEMBER 24, 2016
James David (J.D.) Goodwin, 76, Overland Park, KS passed away Thursday November 24, 2016 at St. Luke's Hospital in the company of his family. A visitation will be held from 1:00 - 3:00 pm Monday November 28th at the Johnson County Funeral Chapel, 12200 Metcalf. A funeral service will follow at 3:00 pm. Memorial contributions are suggested to the Ronald McDonald House in memory of J.D.
J.D was born in Diamond, Missouri on January 6, 1940. He was the second of four children born to Virgil and Pauline (Hurst) Goodwin.
J.D graduated from Osawatomie High School in 1957 and from Pittsburg State University in 1961.
In 1959 J.D. married his high school sweetheart, Darla Smith, and they celebrated 46 years together before her death in 2005. Darla and J.D raised their family in the Kansas City area while spending as much time as possible at their home at the Lake of the Ozarks. His children and grandchildren will never forget the weekends spent together working and playing at the lake.
J.D began his career at Hallmark Cards immediately after college graduation and spent 43 years there before retiring as Vice President of Manufacturing in 2003. He was recognized by friends and coworkers as a high achieving, hard-working man. J.D. treasured the lifelong friendships he forged with his Hallmark family. In 2008 J.D. met Peg McElhinney, they were married in 2013 and spent the rest of his life together. Their families know how truly blessed they both were by each other. J.D. and Peg enjoyed traveling and spending time with their large family and many friends.
All who ever knew J.D know what a truly good, kind, loyal and humble man he was. He made an impact on this world and will be forever missed by family and friends.
J.D. is survived by his wife Peg, Son, Randy Goodwin and his wife Martha; Daughter, Lynne Goodwin and her husband John Leis; Grandchildren: Michelle Marshall and her husband, Dave, Andrew Goodwin and his wife, Cara, Camille Goodwin, Max Goodwin and Abbey Leis; great- grandchildren: Josephine and Eleanor Marshall, and Abram and Mariel Goodwin. Peg's children: Kelly St. Clair and her husband Paxson, Doctors Christian and Lynne McElhinney, and Lance McElhinney and his wife, Susan; Grandchildren: Pack St. Clair, Cameron St. Clair, Carson St. Clair, Margeaux St. Clair, Lauren McElhinney, Parker McElhinney, Marin McElhinney, Reed McElhinney, Kitch McElhinney, and Amelia McElhinney; Brothers: Dannie Goodwin and his wife, Shirley, and Roger Goodwin; sister: Kathy Goodwin; Sister-in- law and brother-in law: Linda and Bunny Russell; nephew: Robert Russell and his wife, Kristi, and greatnephew: Brendan Russell.