MERLE MAURICE WOODS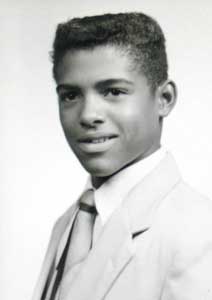 CLASS OF 1957
JULY 25, 1938 - APRIL 17, 2016
Merle Maurice Woods was born in Osawatomie to Mary Ethel Woods. He went to Osawatomie High School where he graduated, and soon after enlisted in the United States Navy, where he was stationed in San Diego, CA. In 1957, he ventured to Riverside, CA., where he met the love of his life, Patricia Frances Evans, and they were married on September 25, 1958.
In 1965 the family relocated to San Diego, CA where Merle began working at National Steel and Ship Building Company. He quickly advanced through the ranks as a Master Welder to Supervisor. Merle worked at Nascco for 22 years where he was given the nickname "Woody" and later retired at the tender ago of 55. Merle soon became known as "Mr. Mom" while he spent quality time with his children, grandchildren, and his great-grandchildren.
Merle was baptized in his younger years when he attended church with his grandmother, who was the pianist in their local church. He rededicated his life in 2013 and became a member of Greater Victory Church. He enjoyed serving in the kitchen, as well as serving his commnity by giving back at the local food bank distribution; which is located at Greater Victory. Merle was always willing to lend a helping hand for whatever was needed.
Merle was known for many things: his salsa, his eye for a good deal, his witty comments, picking up a penny, having a rubber band handy, having his own personal style, a mohawk, a pony tail, a bandana on his head, and gray hair at the young age of 21.
From this love he was blessed with 10 children: Nadine, Merle, Jr., Leondra, Mark, Myron, Christina, Mercedes, Diana, Yolanda, and Michelle.
15 grandchildren: Frances, Ricky, Jr., Felismina, Merle III, Patricia, Mary, Daniel, Alexandra, Andreas, Brandi, Jacques, Delvon, Niger, Kai, and Darren.
12 great-grandchildren: Cheyenne, Derris, Jr., Lea Belle, Malachi, Caleb, Devin, Micah, Aliyah, Mariah, Tai, Queen, and Exodus.
A special love for Princess and Jesayha.
He leaves a host of in-laws, nieces, nephews, and close family friends that he loved dearly with all his heart.
Services were held at Greater Victory Church in San Diego, CA on April 23, 2016.