HAROLD LEE SMITH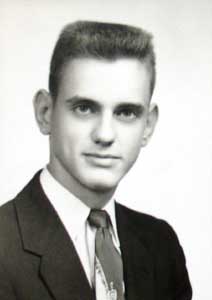 CLASS OF 1956
MARCH 17, 1938 - JUNE 29,2017
Harold Lee Smith, 79, of Centralia, died Thursday, June 29, 2017.
Services will be Wednesday, July 5 at Fenton Funeral Chapel, Centralia, at 11:00 a.m. Officiating will be Rev. Jed Angell, Pastor Friendship Christian Church, Centralia. Visitation will be Wednesday, July 5 from 9:30 a.m. until the service starts.
He was born March 17, 1938 at Sedalia, the son of James Harold Smith and Virginia Ann Gillespie Smith.
He attended Horace Mann Grade School and 8th grade at Smith Cotton High School. His family moved to Osawatomie, Kan. where he graduated from High School. His family returned to Sedalia in 1956 after his father died.
He was a member of Wesley Methodist Church, Sedalia. He worked for Pittsburg Corning Glass Company and Missouri Pacific Railroad.
He married Dorothy Chamberlin, June 25, 1959. They moved to Centralia in 1962.
He worked for Prudential Insurance Company until 1965 when he bought into Palmer & Ellis Insurance Agency, later known as Waisner, Smith & Angell. He retired in 1998.
He was past president of Centralia Jaycee and Centralia Rotary Club where he received the Paul Harris Fellow Award. He served on the Centralia Park Board. He also served on the Centralia Planning and Zoning Board. He was president, along with his wife, of the Columbia and Centralia Square Dance Clubs; he was an avid square dancer. He loved hunting, fishing, golf and square dancing.
Survivors include his wife, Dorothy of Centralia; children, LeeAnn Mahieu (Martin) and LeeAllen Smith (Tracee Posey) both of Centralia; grandchildren, Hilary Ann Hedberg (Gregory), Dylan Wayne Kempker, Reagan Nicole Smith and ReaLee Jeanealle Smith; step-grandchildren, Nathan and Michael Mathieu; three great-grandchildren Gradon Gene Hedberg, Annalee Sophia Hedberg, and Graham Alexander Hedberg; brother, James Ernest Smith (Ranae), Sedalia; nephew, Tracy Scott Smith; and niece Jammi Karol Smith Birch (Michael).