PATRICIA LOUISE McANARNEY MOORE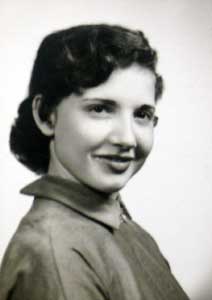 CLASS OF 1956
AUGUST 4, 1938 - OCTOBER 1, 2017
FREDERICKSBURG, Va. Surrounded by her four sons on October 1, 2017, at 7:05 a.m. Patricia Louise (McAnarney) Moore died at Mary Washington Hospital, in Fredericksburg.
She was born August 4, 1938, in Paola, Kansas, to Basil Francis and Leta Faye (Rushing) McAnarney/Downs.
She attended high schools in both the Parker and Paola areas and graduated in 1956 from Osawatomie High School.
She was married to William Cole and Arthur Allen Moore, who both predeceased her.
She is survived by: her four sons, Kevin Dean Cole, Sulphur Springs, Texas, Rick Allen Moore, Stafford, Virginia, Sean Patrick Moore, Houston, Texas, and Barry Scott Moore, Houston; and she was blessed with several grandkids, nieces and nephews, who will miss her dearly. She is also survived by her brother, Glenn McAnarney, Independence, Missouri; sisters, Susan Downs Bean (Bill), Lees Summit, Missouri, and Shirley Downs Leonard (Paul), Galveston, Texas; and her two teacup Chihuahuas, Paco and Bianca.
She lived most of her adult life in Houston, where she worked as a professional legal secretary until her retirement in 2001 when she started her own business as a book editor.
Among her many passions were reading, writing, needle point, crotchet, cooking, singing, playing piano and animals. She took musical talents into country music, where she wrote and recorded several songs in the late 60s and early 70s with her then husband Arthur (Rick) Allen Moore.
Her love of animals, mainly dogs, kept her very busy raising, training, and rescuing them over her adult life.
In 2006, she moved to Stafford, to live with her son Rick, his wife, Darcy, and their daughter, Amanda. It was there in Stafford, that Patricia was able to enjoy much of her time in retirement, helping rescue animals, serving as a transporter between animal shelters in the area.
At her request, Patricias remains will be buried in the Paola City Cemetery, same as her grandmother, Edith Rushing, and mother, Leta Faye Rushing.
Arrangements for a private family service will be determined at a later date