LARRY ICENOGLE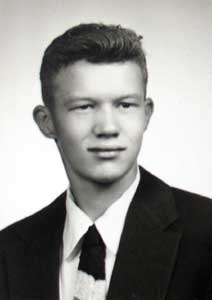 CLASS OF 1956
APRIL 24, 1938 - JULY 6, 1957
Larry Charles Icenogle, younger son of Otto and Helen Icenogle, was born at Osawatomie, KS., April 24, 1938, and passed away at 2:30 a.m. July 6, 1957 at the Kansas University medical Center, at the age of 19 years, 2 months and twelve days.
Larry had lived in Osawatomie all his life, attending grade and high school here, and graduated from the Osawatomie High School in 1956. In school, he was active in sports and other school activities, lettering in both football and basketball.
After graduation, he worked for a short time in Olathe, KS and then entered the service of his country, enlisting in the Navy. He was stationed at the Naval Air technical Training Center at Norman, OK., and had been home on leave only two days at the time of his death.
Surviving him are his father and mother of the home in Osawatomie, a brother, Wayne, of DeSoto, KS., a sister, Mrs. Faye Goodall of San Bernardino, CA, his maternal grandmother and many other relatives and a host of friends.
Funeral services were held in the First Methodist church, Tuesday, July 9, 1957 at 2:30 p.m. Rev. Willis A. Warner and Rev. A. Otis Beach officiating. I. H. McMahon sang "Beyond the Sunset" and "The Eastern Gate", accompanied at the organ by Mrs. Ida Phares.
Acting as honorary pallbearers were: Ralph Wilson, Richard McDonnell, Don Holloman, James McKeever, Ted Jones and Marvin Barnett. The active pallbearers were: William Randall, James Leonard, Eddie Leonard, Richard Shores, Myron Rogers and Johnny Sims.
Flower girls were: Marsena Kim, Sharon Alexander, Camille Alexander, Sonja Jacobson, Rita Spellman, Jerry Lou Goodell, Barbara Mulford, Pat MacArarney and Janet Stanley.
Interment was in the Elmdale Cemetery under the direction of the Eddy Funeral Home. Military services were conducted at the graveside by a detachment from the Olathe Naval Base.