ALVETA HOLLOMAN WILSON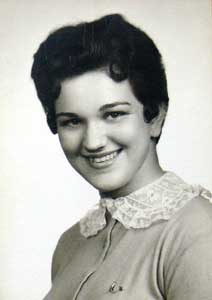 CLASS OF 1956
JULY 26, 1938 - SEPTEMBER 6, 2008
Alveta Holloman Conrad Wilson, 70, formerly of Parker, died Saturday, Sept. 6, 2008, in Mount Hood Medical Center in Gresham, Ore.
She was born July 26, 1938, the daughter of Alva and Venus Chamberlain Holloman. She grew up in Osawatomie and graduated in 1956 from Osawatomie High School.
In November 1956, she married Clayton L. Conrad, and they became the parents of four children. They lived in Lenexa, but later moved back to a farm in the Osawatomie area. Their 17-year marriage ended in divorce.
She worked for the Miami County Motor Vehicle Department and then the Miami County Sheriff's Office for 12 years as a dispatcher. She also worked for the Miami County District Attorney as a secretary.
She married Darrell Wilson on Dec. 14, 1985, in the Miami County Courthouse in Paola. The couple then moved to Oregon where they lived for seven years.
After the death of her stepfather, William R. Milton, in 1992, they returned to care for her mother on the family farm in Parker. After selling the farm, the couple made plans to travel in their motor home.
Mrs. Wilson's interest in quilting became a favorite pastime. She belonged to several clubs, such as the Miami County Quilters and Sunshine Hobby Club. She was a member the Beagle Ding-a-Ling Belle Choir. She was a creative crafter who enjoyed making gifts for family and friends. Her beautiful smile will be forever remembered.
Survivors include her husband, Darrell Wilson; four children, Regina Gross of Parker, Renee Switzer of Paola, Russell Conrad of Wichita and Randy Conrad of Paola; and eight grandchildren.
Friends may call on the family from 6 to 8 p.m. Thursday at Eddy-Birchard Funeral Home, 203 Main St., Osawatomie. A brief memorial service will be at 7 p.m.
There will be another memorial service at 2 p.m. Saturday in the Church of the Nazarene, 258 Park Road, Garnett, KS.
In lieu of flowers, the family asks that contributions be made to the St. Jude Children's Research Hospital, 501 St. Jude Place, Memphis, TN 38105.