JOHNNIE LEE CARRIKER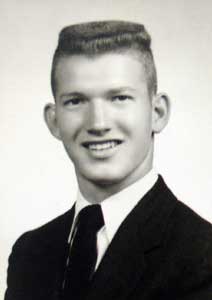 CLASS OF 1956
Visitation: 9-10 am Saturday November 2, 2019
Service: 10 am Saturday November 2, 2019 all at the Eddy-Birchard Funeral Home
Burial: Osawatomie Cemetery
Memorials: Shriner's Hospital or the Dwight D. Eisenhower Eye Center
send c/o Eddy-Birchard Funeral Home
P.O. Box 430
Osawatomie, KS 66064
____________________________________________________________________________
Johnnie Lee Carriker age 81 of Paola, KS died Friday October 25, 2019 at Olathe Medical Center.
John was born August 21, 1938 in Coffeyville, KS. He was the younger of two sons born to Harley and Clara Simpson (Rone) Carriker. He attended school in Osawatomie. Graduating with the Osawatomie High School Class of 1956.
After graduation, John enlisted into the United States Navy. During his four-year enlistment, John spent 14 months with the Marine Corps. He was stationed in various locations and received training in Camp Lejeune, North Carolina. John was honorably discharged.
On December 31, 1960, John and Sharon Buddenhagen were united in marriage in Paola, KS. They made their home in Kansas City, Kansas, Johnson County and then moved to Paola. Together the couple had three children, Sheri, Teri and Aaron.
John worked at Hallmark Cards for a short time right out of the service. He then filled orders at Safeway Warehouse. John then went to work at KU Medical center as an electrician. In 1967, John started working for Diebold Incorporated as a technician. He worked his way up to Regional Service Manager. John retired from Diebold after a 37 ½ year career.
John was a multifaceted man. He enjoyed fishing, writing poetry, reading, gardening, hunting and antiquing, as well as politics! He loved music and playing guitar. He made a point to connect with each family member in something they were interested in. John collected guns and was a member of the Garnett Gun Club. John was very proud of his family. John and Sharon attended Central Church of the Nazarene.
He was preceded in death by his parents and two granddaughters Rebecca Lynn Roos and Jessica Doreen Morris.
Survivors include wife of 58 years Sharon of the home, children Sheri (Darren) Morrow of Decatur, IL, Teri (Roger) Carrender of Overland Park, KS and Aaron (April) Carriker of Roland Park, KS. Brother Wilson Eugene (Laura) Carriker of Olathe, KS. Four grandchildren, Luther John, Tabatha, Hannah and Will. Twelve great grandchildren, Chaise, Kylie, Esther, Charlotte, Alexander, Elliott, Emma, Anthony, David, Hadley, Adeline and Jason. Along with other family and friends.