DARRYL BAKER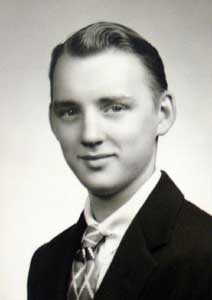 CLASS OF 1956
AUGUST 22, 1938 - JANUARY 16, 2004
Darryl Baker, 65, a native of Osawatomie, died Friday, Jan. 16, 2004, at his home in Tacoma, Wash.
He was born Aug. 22, 1938, in Osawatomie, the son of Lee and Mildred Farris Baker. He was a 1956 graduate of Osawatomie High School.
He and Janice Dillard were married in January 1961.
Mr. Baker served with the U.S. Air Force for more than 20 years before retiring. After his retirement, he continued to work in his field of lab technician in the Tacoma area.
Those preceding him in death were his father, a brother and a sister.
Survivors include his mother, Mildred Johnston of Osawatomie; three children, all of the Tacoma area; a brother, Don Baker of Prairie Village; four half brothers, Fred Stevenson of Rantoul, Francis Stevenson of Olpe, Kan., Jim Stevenson of Lusby, Md., and Ron Stringham of Osawatomie; a half sister, Janet Chmidling of Edgerton; and five grandchildren.
Burial was in the National Cemetery in Tacoma.