TOMMY L. STRATTON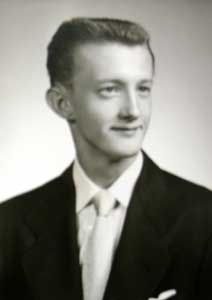 CLASS OF 1955
DECEMBER 4, 1937 - NOVEMBER 14, 1999
Tommy L. Stratton, 61, Gladstone, Mo., a former Osawatomie resident, died Sunday, Nov. 14, 1999 at his home.
He was born Dec. 4, 1937 in Sedalia, Mo., the son of Roger C. and Daisy Bell Stratton. He was a 1955 graduate of Osawatomie High School.
Mr. Stratton was employed by Boyle's Corned Beef Co. for 37 years. He was an active member of the Reorganized Church of Jesus Christ of Latter Day Saints in Liberty, Mo.
Survivors include his wife of 34 years, Vicki L. Stratton, of the home; two daughters, Deborah Cox of Overland Park and Jillene Prucha of Highland, Calif.; a brother, Jack E. Stratton; two sisters, Mary Ann Davis and Ellen Donnell; four grandchildren; and one great-granddaughter.
Memorial services will be at 8 p.m. Friday in Mount Moriah Terrace Park Chapel, 801 N.W. 108th St., Kansas City, Mo. Visitation will be from 6:30 to time of the service. Burial will be at a later date.
Memorials may be made to the church or Northland Branch of Kansas City Hospice.
(From the Osawatomie Graphic, November 19, 1999)