CARLOS ROBINSON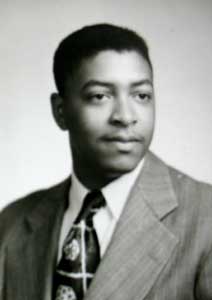 CLASS OF 1955
DECEMBER 5, 1937 - NOVEMBER 26, 2005
Carlos M. Robinson, 67, Osawatomie, died Saturday, Nov. 26, 2005, in the University of Kansas Hospital in Kansas City, Kan.
Born Dec. 5, 1937, in Osawatomie, he was the third of the five children of Carl and Marjorie Adams Robinson. He was a 1955 graduate of Osawatomie High School.
Mr. Robinson did custodial work for United Telephone Co. and Martin's Laundry in Osawatomie. He did auto body work for Osawatomie Motors before working for Taylor Forge Engineered Systems in Paola for a time. In 1983 he began working for the Osawatomie State Hospital and became supervisor of custodial services in 1990. He retired Dec. 14, 1999.
He was a member of the Osawatomie Southern Baptist Church, Ducks Unlimited and the National Rifle Association.
Those preceding him in death included a sister, Betty Ann Robinson, who died in infancy.
Survivors include three brothers, Harold Robinson, Clayton Robinson and Herb Robinson, all of Osawatomie.
Services were Tuesday in Eddy-Birchard Funeral Home in Osawatomie with burial in Osawatomie Cemetery. Pallbearers were Ambrose Hernandes, Willie Brockman, Dave Everett, Marvin Puvogel, Clayton Robinson Jr. and Brian Robinson.
• Memorials may be made the Kidney Foundation in care of the funeral home, P.O. Box 304, Osawatomie, KS 66064.